Sydney Streets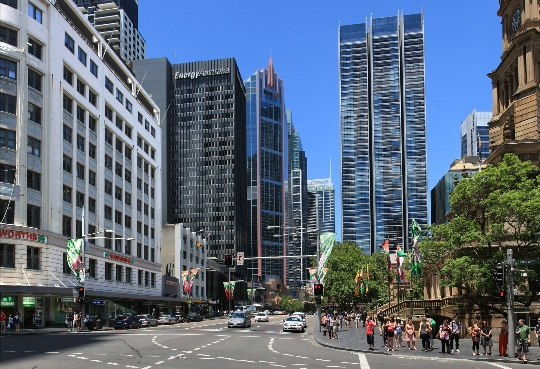 The largest city in Australia - Sydney - isa clear example of how successful can be a combination of historic architecture and ultra-modern skyscrapers. The magic of this city lies in the fact that we need only to go deep into Sydney's streets, away from the busy tourist routes, and all its essence will reveal itself.
George Street
George Street is the main street of Sydney andthe busiest part of it. Here are the old buildings, modern business centers, as well as numerous boutiques, shops and entertainment venues. So, passing it to the end, you can get an idea about what is the city of Sydney.
Pitt, Elizabet and Castlereagh St.
Also of considerable interest to thetourist. In contrast to the main street, they are not as pompous, but a variety of interesting institutions is not less. These streets can be considered the ideal place for cheap shopping, since the whole of Sydney - the city is quite expensive. Here you can also enjoy a traditional Australian food and drinks.
Chinatown
Suffice it a popular destination among the tourists,who are tired of beautiful sights. There will not be able to take pictures of authentic Australian architecture, but you can find something that is not able to offer any boutique and supermarket. This quarter it is built up so thick, it seems that this is a real city within a city. Signs in English are rare here, so inexperienced tourist may well get lost and find yourself in a completely unfamiliar place.
The famous Kings Cross
For those looking for thrills in suchplaces of entertainment, such as nightclubs, strip bars and other hot spots, Kings Cross is ideal. However, during the day here to do absolutely nothing, and at first glance does not even say that the area at night is transformed into a boiling cauldron.
Bligh Street
Nothing special this street is no different. But is the shortest in Sydney - only 200 meters and is located there only 4 houses. True, it has history of 200 years, and the building are excellent specimens of classical architecture of the colonial period.
Photos of Sydney streets