Australian Beaches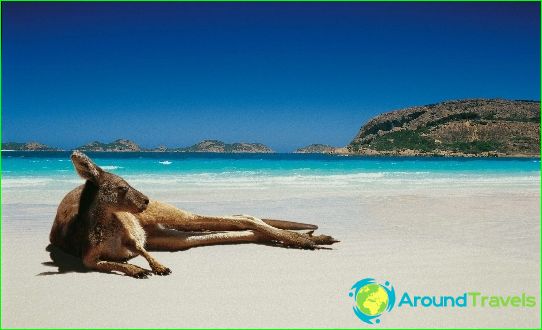 Business card of mainland Australia - isa huge coastline, washed by the magnificent blue-green ocean and the delightful cult Australian beaches. By law, the best sandy beaches in Australia are considered the most clean (this is followed special services) and are suitable for any class, for extreme diving and breathtaking surfing, and for secluded romantic journey of two lovers. Beaches in Australia, of which there are more than 10 million, the majority are well-known places of worship. Among them:
Beach Gold Coast - a luxury resort, the Australian "Miami" with a huge number of hotels, luxury hotels, entertainment centers, the best clubs and discos, a paradise for surfers;
Great Barrier Reef due to itsunique beauty, is one of Australia's most famous landmarks and heritage around the world. This is the birth of the largest coral reef, which includes more than 5000 species and islets with the amazing beauty of the underwater world;
Oberon Bay Beach and the beach Duras, provide wild remote from civilization rest;
Island of Lord Howe Island - the most ancient volcanic island in the world;
Beach Port Douglas and many others.
Most of Australia's beaches are deserted oruninhabited, such as the beach Vaytheven - a small island in the archipelago of the Holy Trinity, or the wild and unsettled, but this is absolutely not less attractive, uninhabited beach Springs, a true paradise for surfers; or remote from the world Waterloo picturesque beach. To the best sandy beaches of Australia should be ranked Himes, who is listed in the Guinness Book as the beach with the whitest sands in the world. Indeed, referring to his sandy beach looks like whipped cream.
Sydney Beaches
Particularly enticing and world-famous beachesAustralia - sandy areas of Sydney. By the time of landing at Botany, you can see vast stretches of golden chain, bordered by the sea and shrubs. In Sydney, about 70 sandy beaches and not only the most famous of them - it's Bondi Beach. This place avid surfers or just lovers of the sea.
Beach Burnda not less attractive. It is part of a nature reserve with beautiful landscapes, where you can not only stay in tents or sunbathe on the sand, but also enjoy the rainforest and its main inhabitants - kangaroos. Speaking of Sydney, also comes to mind the famous Bondi Beach, totally civilized place, a huge extent, attracts tourists with its beauty and many attractions.
Travel to Australia for many meansdiscover the shining desert pristine beaches, plenty of dash off to surf, swim with colorful fish and sea turtles or devils, scuba dive to the underwater reefs and wrecks like or sail to the islands of the Holy Trinity.
Photos beaches in Australia