Cruises Australia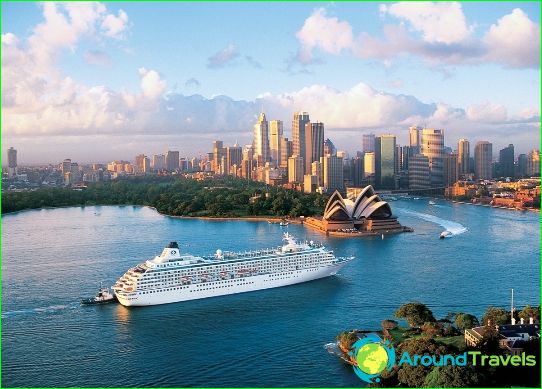 The most remote and mysterious continent, wherespecial fauna and amazing nature - it is Australia. Bags are there even in mice, and its inhabitants go upside down and wearing a fur coat in July. A stay in the country of koalas and kangaroos, discover the beauty of national parks and enjoy the endless expanse of the ocean can be during a sea voyage. Cruises Australia and nearby islands - a great way to go on the edge of the world and come back with suitcases of souvenirs and a heart full of impressions.
Destinations & Attractions
A small area of ​​mainland Australia yetless can justifiably lay claim to being one of the most unique places on the planet. The variety of cruises in Australia route shows the traveler the whole continent rich in the natural world, its memorable and historical places.
Visiting Melbourne, tourists will learn about the past andThis most beautiful Australian city and then admire its stunning panoramic view from the lookout towers Rialto. This building is an achievement of modern architects, but with a 250-meter height are clearly visible and the old quarters of Melbourne with houses of the past centuries and green parks.
Brisbane enjoys special popularityexcursion to the Botanical Gardens, lying on a high hill. From the mountain offers a great view of the city, and thousands of strange plants of the park remain in photographs curious travelers.
Islands in the ocean
Cruises Australia - this familiarity with the residentsOceania and the islands, which can be seen not only the corners of untouched nature, but also the whole tribes have preserved customs and traditions through the centuries. Educated coral islands and reefs - the dream of thousands of divers, which is quite feasible for passengers of cruise liners. Great Barrier Reef - a Mecca for those who can not imagine their journey without diving, cruises and because Australia is a unique opportunity to combine business with informative and interesting.
In the "View a must!"
In Australia, every traveler finds something informative for themselves, but among the hundreds of thousands of objects worthy of admiration, there are some particularly important and beautiful:
The building of the Opera House in Sydney.
Kimberly Valley.
Complex rocks Twelve Apostles.
Park rain forest.
Photo