Australia Flag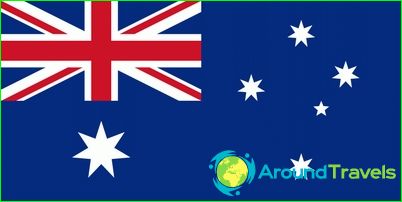 National flag of Australia - a rectangularpanel with an aspect ratio of 2 to 1. Background banner - blue. It shows six stars, five of which are in the form of the constellation of the Southern Cross, and the sixth is to the left under the flag of the United Kingdom. The biggest star - seven-pointed where six ray star - is the number of colonies, which is six, and the seventh - is outside the territory. The blue background of the flag symbolizes the ocean. British flag pays homage to the history, when Australia was a British colony.
It took an Australian flag in 1901, butthe final form of the banner received in 1903. flag design was chosen from entries. Later, however, the flag has been slightly modified. The appearance of the present flag appeared in 1934, but was finally approved in 1954 and became "the national flag of Australia."
Each star on the flag of Australia has itsvalue: five of these seven-pointed star - the Commonwealth star Acrux, Beta Crucis, Gacrux, Delta Crucis, and the sixth is a five-pointed - star Epsilon Crucis. Before the advent of the Australian flag on the mainland used the British Union Jack flag. There was also be a variant of the flag with a red background. That's a red flag was used on offshore merchant ships.
In 1953, established rules for the useAustralian flag. It can be installed at a height above the other flags. Use the flag should be in every government building in elections and referendums. Court individuals may use both options - blue and red flags.
Lowering the flag on the flagpole 1/3 length occurs in the case of death of the monarch and the royal family members, the Governor General, on the day Anznak, the commemoration day of the victims of the First and Second World War.
Without special permission to use the flagadvertising is not allowed. In case of its use flag should be presented in a dignified manner, it is shown only in the original, without any extraneous graphics and lettering.
In 1996, a National Flag DayAustralia. The initiative was made by William Dean. But to celebrate Flag Day began in 1985 in Sydney. This day is not a weekend, but held different events in several cities of the country.
Due to the increase in the number of Republicans in Australia, the British flag image began to strongly criticize. Therefore, the change of the flag of Australia today sharpen serious disputes.

Photo Australia flag