Australia Rivers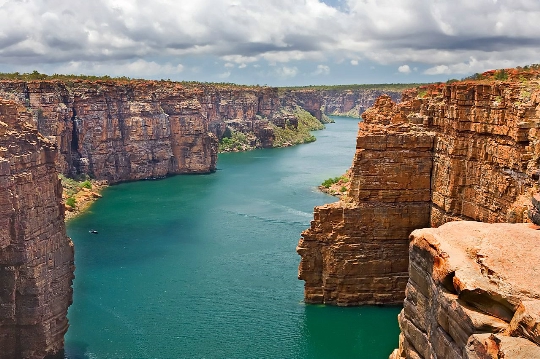 If you look at a map of this continent, themany rivers in Australia are represented by dotted lines. This is explained by the fact that "normal" they are only after heavy rains. The rest of the time - is most often either beneaped streams, or just a string of small lakes.
Murray
That title belongs to the river the longestRiver of the Australian continent. Previously, almost dried up river bed during drought. Now there are no such problems, because the optimal water level is maintained by established in the upper Murray Reservoir.
Murray is great for practicing fishing. And not only amateurish, but also sports. The waters of the river are rich in fish. Where you can catch: trout; bass; cod; Australian smelt. In addition, in the Murray you can catch catfish and freshwater shrimp.
If we talk about other entertainment, it is,Of course, the present ride on a paddle steamer that plied the waters of the Murray in the XIX century. "Floating house" you can ride on water skis and even rent if you wish.
Coast Attractions Murray:
Australian Alps;
Lake Victoria, Alexandria;
National parks;
national reserves;
artificially created sandy ridge;
Village Loxton.
Darling
Darling - the largest tributary of the Murray wandering. The total length - 2757 km. In times of drought, sometimes lasting for a long time, the river is very much shallower. And at this time of affluent Darling turns into a trickle.
Darling Murray flows into the water near the townUentyert. In its lower reaches of the river may seem very boring, because the local landscape - bleak semi-desert coast. But this is where you will find the most interesting places for fishing. In spring and autumn Darling strongly dries up, turning in some stretches.
While traveling is certainlystay in town Bryuarrin (approximately 800 kilometers from Sydney). Here you can live with this Aboriginal tribe, try their traditional cuisine and visit the local festival. And in this place preserved rock paintings dating back about 40,000 years.
Murrumbidgee
Murrumbidgee - another large influx of Murray. In winter, the river sometimes threatens local residents strong floods, but in the summer it is really quiet. And then on its banks, you can see a lot of fans of fishing and quiet backwaters Marrabidzhi will give you many hours of calm.
Special attention deserves a placeCasuarina Sands. You can not only fish, but also to try their hand at canoeing. Not far from town is a dam - a great place for an extended vacation.
Attractions: south of Canberra is reconstructed farmstead reproducing lifestyles years 1850 and here it is worth to explore the exhibition gallery Sydney Nolan's Ned Kelly and drawings.
Photo