Trip to Australia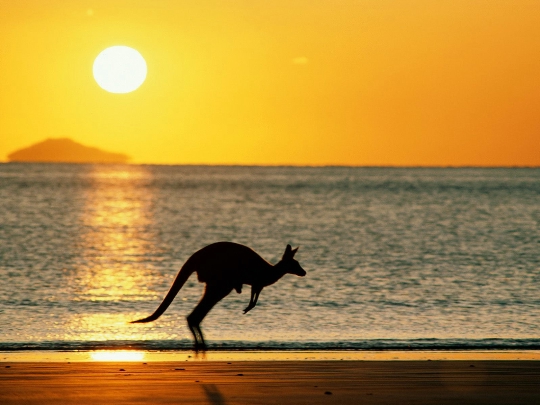 A trip to Australia is probably the dream of everytourist. After all, only here on the deserted roads you can encounter with a kangaroo, slowly passing you the way. In addition, the country has a perfectly developed transport infrastructure.
Automobile transport
the continent's roads are divided into three categories: federal roads; State Road; local. The bulk of the Australian routes - the dirt roads. But they are in perfect condition, making travel quite comfortable.
Public transport
In all major cities there is a busmessage. Train - the analogue of our trains - is in Brisbane, Geelong, Adelaide, Melbourne, Sydney and some other cities. Trams only in Melbourne and Adelaide. In Sydney and Melbourne, there is a special "light rail", as well as the monorail.
In Sydney, Brisbane, Melbourne, Newcastle and ferries are used as public transport.
Railway transport
railways network covers the whole of the continent, providing comfort on longer journeys. The total length of w / e ways for more than 30 thousand kilometers.
But because private railways developedfaster state, the construction of a unified standard has not been tract. That is why the roads have different track widths, and because they use different rolling stock.
River transport
Rivers in Australia is very small, but because of the rivertransport to the main methods of transportation in the country can not be considered. And water the Murray and Darling are used only for tourism purposes: on the rivers ply exclusively tourist ships.
Air transport
And yet, the main mode of transportation in the country- Air travel. It perfectly developed network of both international and domestic flights. If necessary, you can reach the most remote island resort or a small town, where you will take a local aviation aircraft.
In total, the country has 448 existing airports, but the largest is located in Sydney, Adelaide, Melbourne and Darwin.
The main carrier - known around the worldairline Qantas. Very often it is called "Flying Kangaroo". That it is the country's official airline and flies to 114 cities around the world.
Subsidiary Jetstar has assumed responsibilities for domestic traffic, and has an excellent service.
The company Virgin Blue - largest budget carrier, commits both charter flights within the country and makes air travel in the Asia-Pacific region.
Australia
Photo