Airports in Austria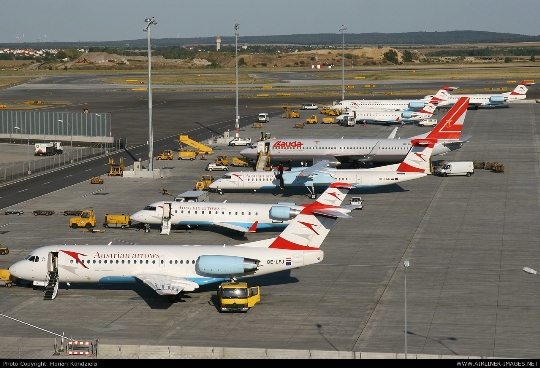 Location is quite six Austrian airportssuits travelers coming to the ski resorts and tours of the country: to get to the object of interest can be for a short time and with greater comfort. All international airports in Austria boasts excellent infrastructure and transfer of them carried on comfortable shuttles and commuter trains plying punctually and minimum time intervals.
The international airports in Austria
Cities in which the airports are, it is not only Vienna and Salzburg, but also:
Ski Innsbruck, the former capital of the Winter Olympics.
Museum and Theater of Linz, which is several tens of interesting excursion routes.
Center Lake District Klagenfurt, around which like to spend their summer vacation Austrians and foreign tourists.
Festival Graz regularly invites guests to music festivals and art events.
The main directions
Vienna International Airport is located in Schwechat in18 km from the city. European airlines fly terminal 3, the local "Austrian Airlines" is based in the first terminal and the second takes the side of European low-cost airlines. Every half an hour from the airport depart Aeroexpress, which in just 16 minutes to reach the center of Vienna. Details of the operation of passenger terminals, taxi, flight number, flight schedule - everything is available on the official airport website - www.viennaairport.com.
Mozart's name is Salzburg airport, remotefrom the city center is only 3 km away. Here, only one terminal at a time because the dock, in case of necessity, require very little. It can be reached by city bus Route 2, which connects the terminal to the train station of Salzburg, from the second largest airport in Austria. The airport serves as a destination for winter sports enthusiasts heading to the resorts of Salzburg. Details are available on the site - www.salzburg-airport.com.
Spare airfields
On the ski slopes of Tyrol you can fly toInnsbruck. The local airport is just 6 km from the city center and in the high season here directly flying "Aeroflot". At the arrival hall of its single terminal and the center of the former Olympic city busses with the letter F. The time does not exceed 20 minutes on the way. Details of the flights and other valuable information - on www.salzburg-airport.com.
Graz is a small airport in Austria,Visitors who usually enjoy the winter resort of Schladming. Transfer to the city, located 12 km to the north, and carry electric buses, and the exact schedule is available on www.flughafen-graz.at.
Blue Danube - an international airportAustria, 10 km from Linz. Basic passengers arrive here on domestic airline flights or go with ladders sides "Lufthansa" and "Austrian Airlines". The purpose of the tourists - rest on the lakes of Austria and tours of the city of Linz, which is easily accessible in a few minutes on the commuter train. Airport Website - www.linz-airport.at.
Photo