Shops and shopping centers in Salzburg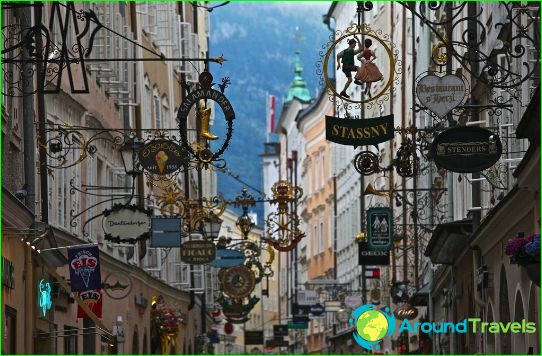 Salzburg - Austria wonderful city, one ofUNESCO World Heritage list. Often it stores are in old houses, which gives lesson unique shopping paint. Many boutiques are combined in specific passages for Europe - cloisters under the transparent roof. These peculiar streets crowded shopping area of ​​well-known big-name houses, trendy international chains, also had time to gain popularity, and very small little-known shops, the better to find in them something special.
Old Town Shops
In the Old City and in the vicinity of GedraydegasseJudengasse in the narrow streets and small courtyard is full of shops bakers, furriers, weavers, confectioners and dressmakers. Their shops organically fit into the ancient atmosphere, are part of the history of the city: the palace Archiepiscopal pharmacy monastery bakery and confectionery Holmayera, jewelry shop Koppenvalnera bookstore Mora.
arts and crafts traditions carefullysaved by local craftsmen. Many of them sell their product at a flea market near Toy Museum. Streets of the Old City, and gave shelter to numerous modern boutiques and passages. Signs, both traditional shops and modern stores are made in the same style antique, that with respect to modern boutiques brands sometimes looks funny.
Shopping Malls and Outlets
In Salzburg, plenty of opportunities to acquirenew things at reasonable prices. So, to «Designer Outlet Salzburg» to get out of the city center is less than half an hour. It is located near the international airport "Mozart". The outlet can save considerably on the choice of clothes, shoes and accessories from well-known brands. Outlet Architecture continues the old tradition to place boutiques in malls. There are shops in the round two-story galleries. Austrian footwear has long been known for its quality. You can put legs for the whole family for all occasions: «Primex» «Consulting» «Und Handels GmbH», «Lederhaus» «Schliesselberger GmbH», «Austria» «Dassler GmbH».
Shopping centers «Schmuck- passage», «Forum 1""ZIB" and winner of various awards "Salzburg Europark" offer a wide range of products and related services. The range includes items of clothes, food, household appliances, electronics, books. Austria can not be imagined without porcelain and sweets, and Salzburg without Mozart souvenirs with the image - all this also has shopping centers.
Photos of Salzburg stores