Shopping in Salzburg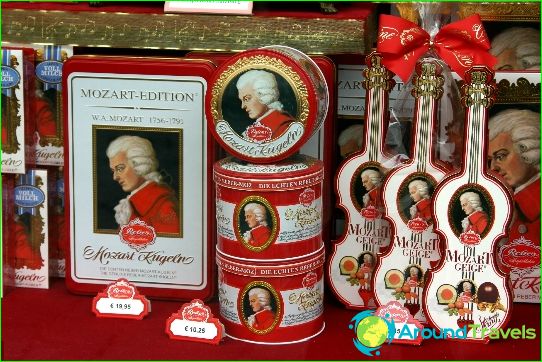 Salzburg is known not only as one of the mostAustria's major cities, classified by UNESCO, but also as an ideal place to relax and shopping. Thousands of tourists come to see the city of the great Mozart and make a shopping tour through the many boutiques, outlets, shopping malls and specialty shops. The question - what to bring from Salzburg - there is no single answer. Therefore, it is desirable to determine in advance with a list of gifts and potential gifts.
What can you buy in Salzburg:
Clothing and footwear. In numerous outlet stores, you can find clothes and shoes from the Austrian manufacturer, which are famous for their quality. In addition, it presents the well-known global brands.
Jewellery and accessories. Women will love the Swarovski brand stores, where they face a wide range of stunning jewelery with Swarovski crystals, and men like Hublot brand products, Omega, Rado, Longines.
Sweets and alcohol. The history of the city is directly connected with the name of Mozart in Salzburg sold so many souvenirs and things with the image of this great composer of the same name, including liquor and sweets that are sold both in the branded shops and large supermarkets. You can choose from milk chocolate liqueur, black or white, poured into a round bottle. It is used as an additive to coffee and desserts, or use in a pure form. In addition, Salzburg can bring delicious apricot schnapps and Austrian wines. Among the most popular sweets "mozartkugel" - Marzipan balls in chocolate, which are made by hand. The cost of these sweets is quite high, but in the supermarkets you can buy a factory option "mozartkugel" at an affordable price. Another sweet gift, souvenir can become famous Austrian wafers "Mannershnitten" with different flavors. The choice offers walnut, chocolate and lemon.
Crafts handmade. It is best to buy such souvenirs at the famous flea market in the courtyard of the Museum of toys. Where you can find products of local craftsmen, as well as traditional Austrian souvenirs.
Number of Photos in Salzburg