Where to eat in Salzburg?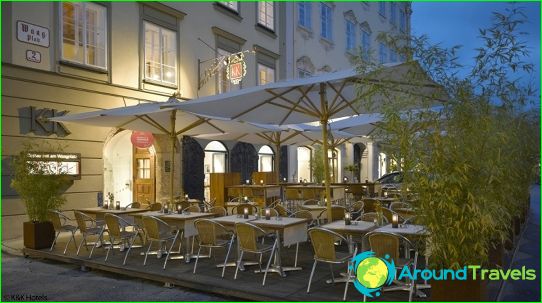 Thinking about where to eat in Salzburg? This Austrian city opened nearly 500 catering establishments, most of which are restaurants serving European and Italian dishes.
Where to eat cheaply in Salzburg?
Refreshments for a modest fee, visittearoom Fingerlos (here serves delicious pastries, coffee and tea). Reasonable prices, friendly atmosphere, homemade and delicious food await you in the small restaurant Reiterhof Moos. Meals can be relatively inexpensive, going to an Indian restaurant Hanas Rasoi: here you can sample a variety of dishes based on vegetables and meat (not overdoing with hot spices), as well as delicious desserts at reasonable prices.
If you do not mind a light snack orself-cooking, be sure to visit the local market: located here kiosks you can get the golden smoked trout farm ducks, venison, dried sausage, klettsenbrotom (sweet bread and fruit), and vegetarian stalls - buy artichokes, Jerusalem artichokes, potatoes kipfler cigar-shaped ...
Where to eat in Salzburg tasty?
Afro Caf: This café-restaurant offers to try exotic foods and the African tea. Here you can try the burgers with ostrich meat, almond soup, meat gazelle. Brightly decorated restaurant will impress passing here African evenings and jazz concerts.
Stern Brau: this authentic institution you will be able to enjoy the Austrian cuisine dishes - goulash, schnitzel with sauerkraut, roast pork with dumplings, cheese dumplings with apricots, Salzburg nokerlnom (pudding with 3 slides of souffle). It is worth noting that the restaurant has an extensive menu, staff dressed in traditional dress, and can be ordered at the bar a delicious cocktail, a Pina Colada.
Sound Salzburg Dinner Show: if you are one of those who likes to eat and at the same time to see the show, you should visit this place is. Dinner includes 3 meals (your choice) and drinks. The approximate cost of dinner with watching the show program - 50 euros.
Azzurro Pizzeria: This restaurant serves Italian cuisine (as kitchen separated from the room by a glass wall, guests of this establishment can watch the process of preparation of the ordered dishes). If desired, you can come here for a comprehensive dinner - visitors are treated to pizza, salad, soup of the day. It should be noted that there is often arranged a week of fresh seafood - mussels, shrimp, fish ...
Carpe Diem: this restaurant (restaurant has a bar, open veranda area chill-out) specializes in national and international cuisine. Here you can taste the meat with mashed potatoes, roasted asparagus and other dishes that are served here in the "cones".
Gastronomic excursions to Salzburg
As part of the gastronomic toursaccompanying guide takes you through the various institutions of power. So, in an authentic coffee shops you will be able to try a selection of coffees ( "coffee blends", "large brown", "coffee cabs") and the most delicious pastries as cake Esterhazy, apple pie, cake Mozart.
In Salzburg you can visit the home of Mozart,the castle Hohensalzburg, and Mirabell Palace, stroll through the small streets and squares, to look into the authentic eateries where you can taste the dishes of national cuisine.
Photo