Best restaurants in Vienna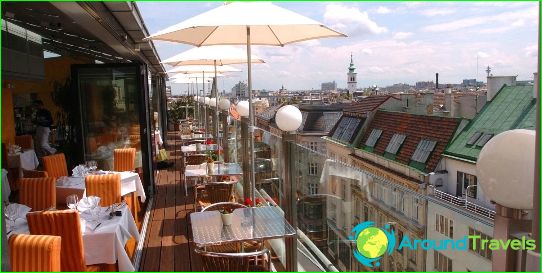 A traveler, for the first time to get toAustrian capital, forget about hunger and fatigue, he is willing to late at night to wander through its beautiful streets and squares. It was only in his second or third visit, he realizes that the best restaurants in Vienna and small, cozy cafe with its incomparable aroma of cinnamon and coffee can not tell smaller stories about this amazing city.
Thoroughly refreshed, we can once again admire the infinite architecture, cultural monuments and wonderful natural scenery, the creation of which is clearly attached hands of the Creator.
In the Austrian generously
For the first time visiting the iconic Capital Ribs Restaurantof Vienna, the guests will not forget it ever. Firstly, because the story of this extraordinary institution began as far back as 1591. Secondly, the signature dish, which must necessarily be ordered every guest are the pork ribs.
The main feature of the restaurant, which serves them on a beautiful board, but do not take payment for a portion or the weight of the food, but for its length. The average serving of delicious roasted ribs - 1 meter.
Wiener Schnitzel - a symbol of the capital
The Austrian capital is surprising not only because of its layout, architecture and a wealth of cultural attractions. The whole world known - Wiener Schnitzel and coffee, again Viennese.
But if flavored drink of the highest qualityyou can try at any outdoor cafe, then in search of the schnitzel is best to go to a restaurant Figlmueller. As the locals say, in this place, and the best recipes and the best cooks.
Best cake
Any hostess asked the famous Viennacake, will spew out his name - "Sacher". Therefore, a tourist caught in the Restaurant Sacher, instantly understands what he has to signature dish to taste today.
Walk past this institution will not be able neithergourmet, not to mention ordinary lovers of sweets and chocolate. Great cake dessert with sweet cream and real chocolate may remain in memory if not the brightest, the most delicious memories.
Across countries and continents
Studying the gastronomic map of the Austriancapital, the tourist will be surprised at how many there are institutions, presents the national cuisine of different countries. And you can taste the traditional dishes are not only large Asian countries, India, China, and small, are close neighbors Austria. Thus, for example, represented by:
Hungarian cuisine in the restaurant Mini;
even more exotic, Croatian, in Bodulo institution;
popular, beloved by many, the Italian - in the restaurant with a beautiful name Al Borgo.
Explore Austria according to old recipes, or walking through Vienna, to know the whole world - every tourist chooses. And in order for the other in the European capital will find thousands of opportunities.
Photo