Vienna - capital of Austria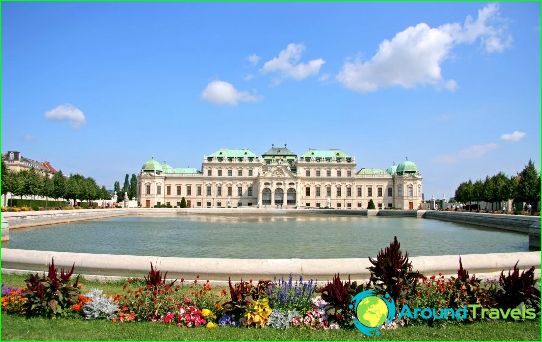 The capital of Austria, as if designed for loversthe opera, museums and ordinary fans of romantics. Vienna - one of the charming cities in Europe, offering its guests to admire the magnificent palaces and majestic squares and picturesque streets, surrounded by the Vienna Woods.
St. Stephen's Cathedral
Cathedral - one of the symbols of Vienna. And he looks so distinguished among other architecture that is even more mysterious. Construction of the future architectural jewel was started in 1137, but numerous fires caused great damage to the structure. That is why in 1359 the construction was started again. Particular attention should be paid tombstone of Emperor Frederick III, designed from an unusual red marble.
Hofburg Palace
Currently, the palace is Hofburgthe official residence of the President. To the modern mind the Palace had a hand in all the rulers of Austria. The restructuring of the Imperial Palace was started even before the coming to power of the Habsburgs, in the days of Babenberg. Buildings belonging to the period are in place the Scottish patio. Chapel in the Gothic style and the Treasury dated XV century.
The palace is open to visitors, and you can stroll through its residential and business premises, preserved in almost pristine condition.
Historical Center
Sometimes called Inner City -tourist center of the capital, has retained the atmosphere of the late XIX century. Today, he is part of the UNESCO World Heritage Site. During the walk you can see a lot, ranging from the ancient cemetery and ending with living statues and exotic modernity - organ-grinders.
plague column
Plague Column - one of the medieval tradition,when a special column with the Virgin Mary installed in the town square. It was gratitude for the cessation of the plague. Plague Column in Vienna Gabin is on the street. The discovery of the plague column was held in 1693 on the orders of Emperor Leopold I. His praying statue is located at the base of the pillar.
Schönbrunn Palace
Schönbrunn Palace, in the style of AustrianBaroque is the royal residence. Years of construction occurred in 1696 - 1713 years. The place where now stands the building of the palace, which once belonged to the monastery, later passed into the possession of the Habsburgs. The palace was built on the ruins of the castle by the architect Johann von Erlach. Its modern look Schönbrunn acquired in 1742 - 1743 years, after an extensive renovation.
Photo