Christmas in Vienna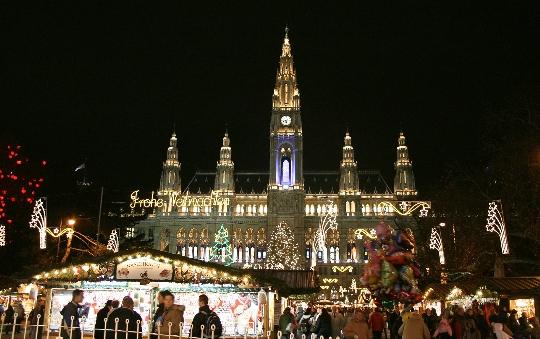 Christmas in Vienna - holiday magic, accompanied by holiday shopping, seductive aroma of traditional delicacies, street choirs performing carols.
Features of the celebration of Christmas in Vienna
4 weeks before the holiday, decorate their Austrianshouse with wreaths of fir branches, which set four candles: every Sunday at 1 lit candle, ie in the last Advent Sunday will be lit all the candles 4. Christmas is celebrated on December 24: the table exhibited the traditional dishes of goose, carp, sausages. And still to this day made anise bake horns, donuts with jam, cinnamon stars and other pastries.
If you wish to reserve a table in a restaurantfor Christmas dinner, make it the best for at least 2 weeks - you will feast on smoked sausages, schnitzel, apple strudel and other Austrian delicacies.
Entertainment and celebrations in Vienna
it is recommended to visit on Christmas Evemusicals, drama productions and concerts, for example, in the theater "an der Wien" or the Vienna State Opera. If you wish, you can attend the concerts with Christmas songs in the St. Stephen's Cathedral.
Do not think in leisure activities without the secularevents? On Christmas Eve, it is worth remembering about the traditional Viennese balls: in the holiday period runs about 300 balls! Since the price of the issue depends on the budget travelers, we can pay attention to the Schönbrunn ball (70 euros) or Imperial Ball at the Opera (cost up to 1000 euros).
Christmas Markets in Vienna
Local residents and visitors to the capital of Austria should look at the following Viennese Christmas market (start to work from the end of November):
Central Fair in the Town Hall Square: then annually set fir, height 28 m, skating-rink, offer visitors eat cotton candy, baked apples, fruit punch, glazed fruits, as well as to acquire wooden handmade souvenirs, Christmas decorations, Christmas toys.
Christmas market on Shpitalberge: You can get scarves, hats, items of artistic crafts, glass figurines, drinks and snacks.
Christmas market on Freyung square: here visitors are offered to get things handmade - angels, embroidered with pearls, wax lanterns, gingerbread, Austrian mulled wine with lemon and cinnamon. Guests who choose to be treated with the punch, you should know that drinking a beverage mug can be returned to the seller and get 2 euros deposit (Punch costs 5 euros). And you can leave yourself a mug and take it with you to the next tasting.
It is worth noting that at the Christmas marketsoften run workshops for the manufacture of toys and sweets, organized creative workshops for children as well as theatrical performances are held on the Christmas theme.
Photo