Vienna Coat of Arms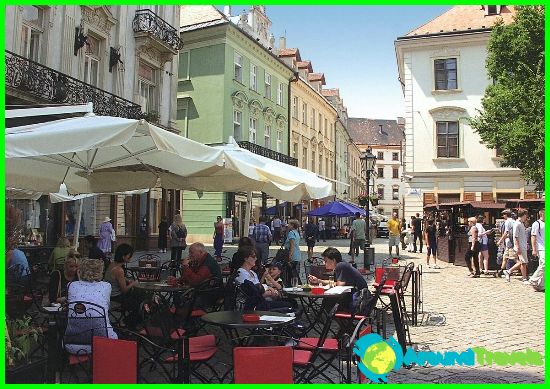 Lovely Austrian capital, hospitalitywelcomes visitors, meanwhile, has a main heraldic symbol rather fearsome. Vienna Coat of Arms consists of two major components, each of them has its own role and its importance.
Modifications description
The capital's residents are proud of the fact that their coat of arms canIt is presented in two versions, large and small. Few of the state of the planet can boast the presence of options, not to mention the capitals. The large coat of arms Vienna has the following elements: occupying the central position of the shield; the image of the Black Eagle.
Shield has a simple form and classic colors,perfectly combined with each other. In this case the shield is red, corresponding to the heraldic tradition scarlet. In this field, represented by the silver cross with a black outline.
Historians believe that the cross - one of the mostold Austrian symbols, he appeared in the XIII century, but not on the arms or seals and coins. Color photo of the emblem of the modern and vintage illustration 1327 say about the identity of colors on the shield.
Feathered defender
Small coat of arms of the Austrian capital - isshield the image appears on a large emblem eagle. Bird made in black, with a golden beak and claws. Wings it wide open, is a shield on his chest. General view of the birds is quite formidable, it symbolically transmits the power, fearlessness.
In contrast to the cross, which appeared first oncoins, and only later to take a place at Vienna's emblem, the eagle from the outset settled on the main heraldic symbol. His relate to Babenberg, the first princely dynasty in Austria, during her reign to 976 by 1246.
Representatives of this surname led Austriathe ranks of the most powerful states in the Holy Roman Empire. Peak flowering of the Austrian state associated with the name of Leopold VI. During his reign there was a rapid pace development of urban neighborhoods, developing trade and mining. Yard of the Duke was one of the most famous cultural centers of Southern Germany.
Successor Leopold Emperor Frederick IIbecame embroiled in a war with close neighbors, it came down to the fact that he at one time even had to hide from the invaders. He ended his life as a hero during the war with the Hungarians. Men's Line Babenberg died away, came to the fore of the Habsburg dynasty. However, the eagle remained on the coat of arms of Vienna, and with it the memory of the most brilliant periods of Austrian history.
Photo