Areas of Vienna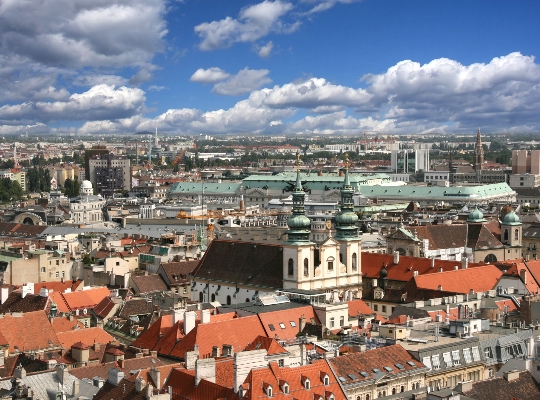 On the map the areas of the Austrian capital presentsin the form of 23 units - each of these areas has its own serial number and an administrative building (exception - the 13th and 14th districts - they "share" one building).
By the Viennese districts are Visible Insidecity, Landstrasse, Leopoldstadt Mariahilf, Margareten, Neubau, Alsergrund, Favoriten, Josefstadt, Simmering, Hietzing, Meidling, Hernals, Penzing, rudolfsheim-fünfhaus, Döbling, Ottakring, Brigittenau, Vering, Floridsdorf, Leasing, Donaustadt.
Description of the main areas and attractions
Inner City: interest for tourists is located here Hofburg Palace (for inspection available Imperial Apartments, the Chapel of the Imperial Palace, a treasure with crowns, medals, familial treasures of the royal family and jewelery, National Library and other facilities), St. Stephen's Cathedral (stores Pec icon, if desired you can go down into the catacombs with a guide), Peterskirche church, Palace of Justice, the Burgtheater, the Vienna opera House (famous for annually arranges a ball), Albertina (a repository of drawings and sketches of famous photographers prints samples).
Leopoldstadt: This green area is good for the family and children's activities - here you can ride on a rented bike, picnic, make jogging, spend time in the Prater (of the attractions are noteworthy slingshot, "pelted" daredevils on the 100-meter tall, rides the "Black Mamba "," Extasy "," Prater Turm "; in addition, there is a go-kart, laughing room, mini-golf, puppet theater," river ", which can travel on a canoe, and other entertainment).
Hietzing: He is famous for the natural reserve Lainzer and Schönbrunn complex sites which is the palace (open for tourists 45 spaces from 1441), Glorietta pavilion (it should go up to the observation terrace, where you can make great photo), Zoo (his visit to allow you to see the guests, more than 600 species animals, and even then you can watch the underwater inhabitants through the aquarium tunnel), labyrinth (where you can find 12 signs of the zodiac, and out of the maze, go up on the platform to see how other guests looking out).
Where to stay tourists
Do you want to be closer to all knownsights? For temporary accommodation will suit Inner City, but here are the most expensive hotels in the Austrian capital. The same applies to the old district Landstrasse.
Many cheap hotels can be found in the areaMargareten - in addition to this advantage, travelers will still have to live here because of the proximity to the center and the presence of cafes and restaurants. If tourists want to stay at a low price, they should look to the sleeping area of ​​Vienna - Favoriten.
Very convenient area for tourists is visible - a stay here, tourists will be near the center, Naschmarkt and shopping street Mariyahilfeshtrasse.
Photos districts of Vienna