History of Vienna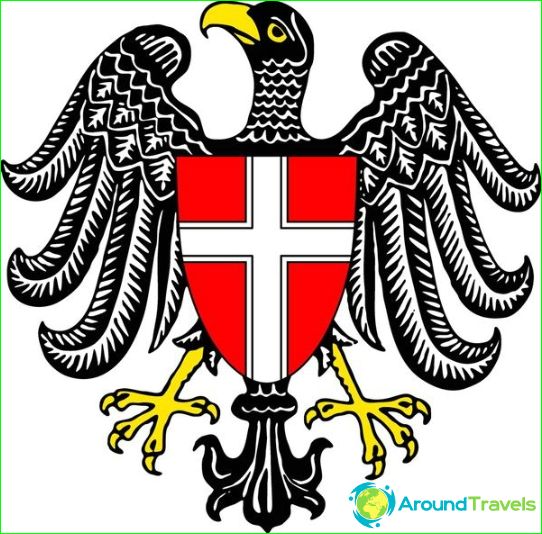 Vienna Coat of Arms
Vienna - the capital and largest city of Austria,with a population of about 1.7 million inhabitants. Vienna is located in the eastern part of Austria on the Danube River, at the foot of the Alps, near the border of the Czech Republic, Slovakia and Hungary. The old town of Vienna and the Schönbrunn Palace on the list of UNESCO World Heritage Site.
From 500 BC.e area of ​​present Vienna was settled by the Celts. 15 BC Romans built here one of their outposts, called Vindobona. The city was designed to protect the empire from the northern Germanic tribes.
In the middle of the twelfth century, settled in ViennaAustrian Babenberg dukes. The construction of residential buildings and churches. In the second half of the thirteenth century, Vienna is already owned by the Habsburgs.
In the sixteenth century Ottoman attacked ViennaArmy, which, however, never managed to besiege the city. In 1683, under the walls of Vienna, the Turks again inflicted a crushing blow, and then began a rapid decline of the Ottoman Empire.
In 1804, during the Napoleonic Wars, ViennaIt became the capital of the Austrian Empire and continued to play an important role in European and world politics. In 1867, Vienna became the capital of the Austro-Hungarian Empire.
In the first half of the nineteenth century in ViennaIt begins a rapid development of culture and art, especially with the advent of the Biedermeier style. The city becomes a musical capital of Europe, the world also enjoy popular and educational institutions: the University of Vienna and the Academy of Sciences. Beginning of the twentieth century - a golden time for a prosperous city. The outbreak of World War I was a watershed event in the history of Vienna. The war has led to the fall of the Habsburgs, the town started riots and political clashes. In 1938 he entered the city by German troops. The bombing in 1945 caused heavy damage to the capital, reconstruction work was completed only in 1960.
Currently, Vienna is a modern,prosperous city, attracting tens of thousands of tourists annually. Annually held here Viennese Ball - cultural event, it is popular all over the world. Vienna is rich in attractions: the imperial palaces, churches, more than 100 art museums, houses, apartments of famous people.
Vienna Photos
Vienna Coat of Arms

Vienna in 1493

Turkish troops near Vienna in 1683

Vienna in the 18th century - painting by Canaletto

Cathedral of St. Stephen

Schonbrunn Palace

Vienna City Hall