Shops and shopping centers of Vienna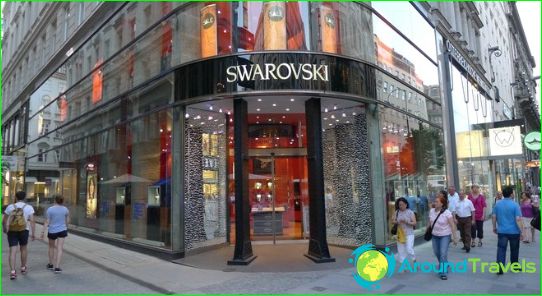 Vienna, of course, expensive city. Few can save your finances tax free. The most welcome words for the shopper in Vienna are Reduiziert Tiefreduziert or on signs, which means "selling." Twice a year, together with the start of the summer sell-off in late July and the winter sales after December 27, the city is filled with professional buyers, shopaholics and at this time becomes a Vienna friendly city for purses.
Clothes, shoes, accessories
Most tourists use the shopping streetMariahilferstrasse. It connects the Ringstrasse and the West Railway Station. If its length is measured in metro stops, you get as many as four stations. Luxury brand shops here are a few, relatively democratic prices. To investigate the uncountable number of stores and shops on Mariahilfer Straße takes a long time, so it's best to plan at least a couple of days to "looting." In addition, the evening at the hotel will help rethink the critical day of purchase. The next day, something with which you are "hotter", without further questions and concerns will be back in the presence of the check.
Especially attracts tourists Peeks storeCloppenburg. In the department there are expensive brands and inexpensive youth clothes and shoes. Discounted products present at any time of year, so it's easy to imagine things will pick up means. From the Austrian supermarket brands distinguish Van Laack - high-quality men's shirts and ties, Wjlford - tights, stockings and socks.
If you enjoy luxury shopping, Vienna invites to the Graben street, Kartnerstrabe, Lohlmark. They are located in the old Hofburg in Vienna district, Opera House and the Cathedral of St. Stefan.
Souvenirs, jewelery, porcelain
On the Mariahilferstraße shopping street is locatedseveral chain stores Swarowski. Of course, jewelry, invented a native of Austria-Hungary, Daniel Swarovski, a better buy in the homeland of the inventor surprisingly transparent and shining crystals. The range of chain stores several times exceeds boutiques offer in duty free zone, so do not expect to catch up at the airport.
White Viennese porcelain is nice and convenient to buy inAugarten Palace. Before acquiring the famous dishes or white porcelain figurines, interesting to admire the palace itself, as well as an excursion to visit the porcelain factory and see firsthand all the stages of production: how to knead the clay, forming the product is calcined, applied to pictures.
Food, sweets, wine
Next to the Vienna State Opera is Café Sacher andcooking Sacher. Vienna is impossible to understand without trying a slice of Sacher chocolate cake with a cup of coffee. Sacher cake as gifts can also be purchased here.
Confectionary Demel is a historicalattraction. Once upon a time it was she who delivered sweets to the imperial court. Tradition, hand-made culinary delights still persist. This hurry of typical Viennese sweets, for example candied petals or violets same Sacher.
Spar Supermarkets will help in the selection of traditionalAustrian food souvenirs - Eiswein wine or pumpkin oil. ice wine production is strictly regulated. The name comes from the time of the grape harvest for wine - after frosts to -7 degrees from such grapes, raisins and made it famous sweet wine.
Photo shops in Vienna