Holidays in Vienna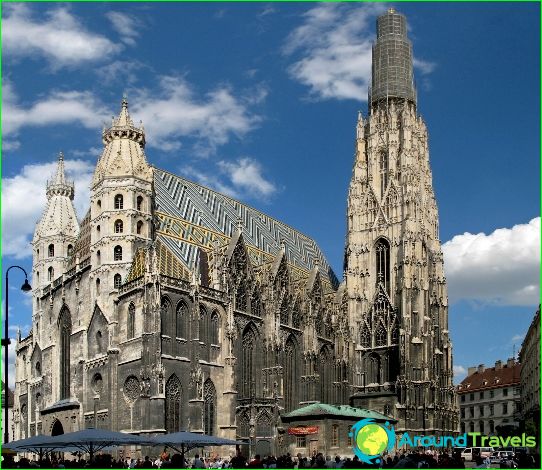 Holiday in Vienna - this majestic area, scenic parks, palaces, delightful music, the famous balls, and delicious pastries.
The main types of recreation in Vienna
Sightseeing: on one of the tour you will see the Hofburg Castle, St. Stephen's Cathedral (go up to the observation deck on the lift or on foot, breaking the 343 steps), ruprechtskirche church, the imperial residence of Schönbrunn, the Belvedere Palace, the Tower of crazy (in open Pathology Museum with a collection of unusual items) old Gasometer, Vienna (Semmering area), visit the Vienna State opera, will visit the House of butterflies (Schmetterlingshaus), the Albertina Museum, the Museum of Liechtenstein, the Prater park, walk through the Vienna woods, taste roast beef, Wiener schnitzel, apple strudel in national restaurants.
Active: Anyone can have fun "Flex" in the most famous nightclub, spend time in the rope park "Waldseilpark Kahlenberg", go for a bike ride around the city and its surroundings, go skating on the ice rink.
Event: if you want you can go to the carnival "Perchtenlauf" with a procession of ghosts (the night of the Epiphany), the Vienna Festival of music and theater "WienerFestWochen" (May-June), Jazz Festival (June-July), Festival "Viennale" (October).
Wellness: be sure to visit the thermal complex "Therme Wien": at your disposal - spa-rooms, a health center, swimming pools with mineral water, sauna, water park, gym, bars, restaurants.
Prices for tours to Vienna
The best time for a holiday in the Austrian capital,considered April-October. Prices are not low in Vienna, with a significant increase in the cost of tours to Vienna is observed in June-August, at Christmas and New Year. But if you pursue the goal - to save, in this city it is advisable to come in the low season (November-early December, February and early April), when on trips to Vienna prices on average reduced by 10-25%.
On a note!
Those wishing to save on accommodation should be sent to Vienna in July-September - this time in the city open campuses (in them inexpensive dining "Mensa" open).
Getting around the city by bus andtrams (after midnight, night buses ply on the main streets). Taxi services in Vienna are fairly inexpensive, but to catch him on the street will not work - you can find a taxi at the special parking or by calling him on the phone.
In memory of the holiday in Vienna is to bringporcelain products, sweets (cake "Sacher" waffle "Manner" chocolate candy "Mozart Kuegel"), clothing from Viennese designers of handmade carpets, souvenirs with the image of Empress Sissi.
Photos vacation in Vienna