Water parks in Vienna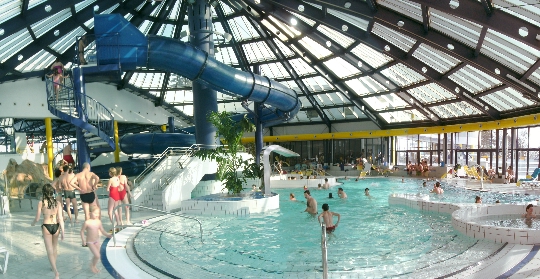 Resting in Vienna, travelers will be able to spendtime in one of the spa-centers, as well as a water park located on the banks of the Danube Canal (there are shallow pools, which is important for families with children).
Waterpark in Vienna
Water Park "Dianabad" features:
pools, "Crazy River" and "Lazy River";
slide "Master Blaster" and others;
pirate ship, equipped with a slide (small explorers will be delighted);
baths and sauna complex (bio sauna, infrared sauna);
restaurant (approximate prices: chicken or meat cutlet with garnish - 9.5 euros, spaghetti bolognese - 7.5 euros, toast with cheese and ham - 3.6 euros, fries - 2.4 euros, tea - 1.4 euros ).
In addition, the complex classes in aqueous jogging, and can be done here and massage treatments using muds.
Entrance fee (all day): adults - 14.9 euro / weekdays (weekends - 16.5 euros), children (6-14 years) - 8 euros / weekdays (weekends - 9.5 euros), 2-5 year-olds - 3.2 euros.
If desired, "Dianabad" can take diving lessons (diving center "Special Dive") and dive under the guidance of an experienced instructor (the price - 29 euros).
Water Activities in Vienna
To be able to float in the dailypool, tourists are advised to stay in a hotel with its own swimming pool - "Vienna Marriott Hotel", "Le Meridien Vienna", "Vienna Sporthotel" and others.
Lovers of water entertainment can have fun inPrater park - then they will have a chance to "experience" water attraction "Aqua Gaudi" (the average ticket costs 3 euros). In addition, you can read a book, sitting on the grass, or have a picnic.
Do not deprive the attention of the Sea House (up to 5 years- 4.5 euros, 5-15 years - 10 euros adults - 13.5 euros) - by visiting it, you will be able to see the turtles living in an aquarium, a variety of fish, jellyfish (as in the bottom of one of the tanks built structures, such as diving helmets then visitors can see marine life at arm's length). In addition, there is a terrarium with snakes, lizards and spiders, tropical zone, and at certain times then you can see the process of feeding the sharks and snakes.
Good weather - a great idea for a trip toDanube Island: on this artificial island of travelers will be able to ride skateboards, roller skates and bicycles (laid special paths), rented boat, just take a walk, play beach volleyball, surfing, picnicking. A beach is equipped for family and children's activities await guests at the presence of hills and hanging bridges. Another interesting entertainment on the island (it is available for all above 110 cm) - high ropes course: wanting to be able to navigate the route with obstacles in the 10-meter height.
Resting in Vienna, is to go on a tour to the underground lake Seegrotte (a landmark of the Vienna Woods; entrance - 9 euros) - on it you will be offered to sail on a boat.
Photo