Christmas in Innsbruck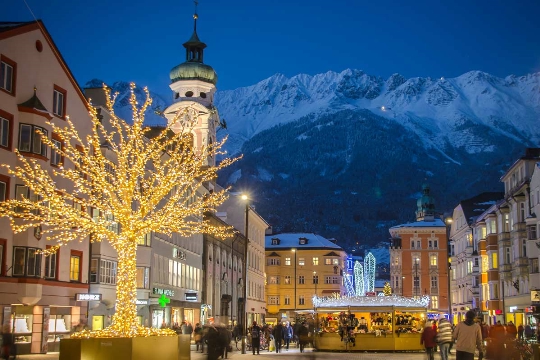 Travellers intending to celebrate Christmas in Innsbruck, will be able to indulge in a visit to the Christmas markets and enjoy the snowy scenery.
Features of the celebration of Christmas in Innsbruck
In honor of the Nativity of the city streets and trees decorated with sparkling lights, so Innsbruck turns into a Christmas tale.
The Austrians set in tree houses, whichdominated by red ornaments. In addition, it is often decorated with "edible" ukrasheniyamiv as candy, nuts, gingerbread, fruit. As for the strings, they perform the role of real candles. And in Austrian homes appears Advent wreath with four candles - on the first Sunday of Advent need to light a candle, in the second - two, and the fourth will be lit for 4 candles.
Austrians celebrate the feast itself for familydinner, exposing on the table Christmas fish, a variety of snacks and nut pastry. And travelers who come to the Christmas period in Innsbruck, will be able to enjoy a festive meal in the restaurant "Burkia", "Riese Haymon" or "Tiroler Bauernkeller".
Entertainment in Innsbruck holidays
It recommended for the Christmas holidaysvisit the Museum of the Olympic Games, the Royal Hunt Museum, mountaineering, Helbling House, the Swarovski Museum (here opens exhibition "Winter Wonderland"), Cathedral Hofkirche (here you will see 28 black bronze statues), Alpenzoo (here you will be able to breathe the mountain air, visit on a pleasant walk, to see the city from a height, meet the animals that live in these mountains).
Those who wish to skate should gothe rink Olympic Ice Rink. Skiers will appreciate the 9 ski slopes as high-speed and intended for beginners. And for young tourists here there are toboggan runs (at the foot of the slopes are open sporting equipment rental, as well as kindergartens, where children are engaged in ski instructors).
Christmas markets in Innsbruck
Christmas Markets in Innsbruck will waitvisitors from 22 November until the end of December at the Marktplatz square (here set Christmas tree, decorated with Swarovski crystals), in the Wilthen neighborhood and in front of the "Golden roof". And another Christmas market can be found in the suburbs of Hungerburg (here you can reach the cable car).
In these markets you can getChristmas gifts and creative works of the Tyrolean crafts (toys, crafts), as well as enjoy Tyrolean specialties and punch. In addition, visitors will have the opportunity to enjoy folk music and theater performances, and children can take part in a specially organized for their amusement.
Photo