Traditional cuisine in Austria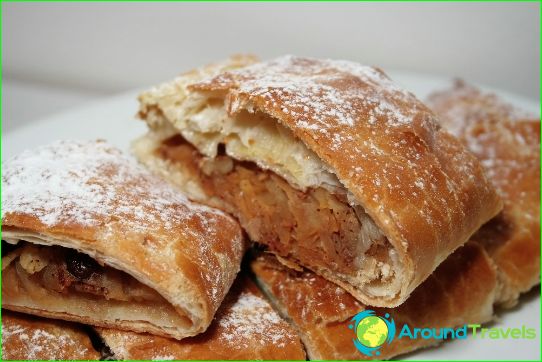 In the absence of a strong Austrian cuisine and spicyspicy dishes (cooks and chefs with care using herbs and spices). Eating in local institutions will please fans of meat and high-calorie foods (here you can order hot dogs, steaks, pork ribs).
Food in Austria
Favorite food is sausage and Austrianssausages; cold cuts, which they eat with a side dish of potatoes, sauerkraut and dumplings (they prefer this dish drink house red wine); thick soup with pasta or gnocchi.
Austrians love the variety of dishes based on friedvegetables, potatoes, cheese, mushrooms, chicken. To enjoy these products, having a golden brown, they are pre-dipped in a special mixture (PANADI) prepared from a loosening of eggs, bread crumbs and flour.
Be sure to try the popularAustrian cuisine - Viennese schnitzel (veal fried in breadcrumbs), Kaiser omelet, Tafelspitz (boiled beef with apple and horseradish), dumplings (dumplings), fried chicken Bakhun, Grune Wurstl (green sausage).
Austria will, than to eat and sweet tooth, such as apple strudel, Viennese pancakes "palachinke" soufflé "Salzburger nokkerln" rum cake "gugelhuft" cake "Sacher".
Where to eat in Austria? At your service:
"Bayzeli" (in these restaurants you can enjoy traditional dishes: they offer their visitors to order a particular dish from the varied menu);
kiosks, snack bars (fast food can be purchased at these institutions);
cafes and coffee shops.
Drinks in Austria
Austrians are popular drink coffee, Almdudler (lemonade with mountain herbs), Holler (drink infused with elderberry flowers), mulled wine, beer, wine, schnapps.
Since the country's well-developed wine making, going to Austria should try the local wine brands such as "Heuriger", "Shilher", "Gruner Veltrinner", "Morrilan", "Muskateller".
Be sure to taste the Austrian beer - it is famous for its very high quality (Zwicklbier, Wiebe, Marzen).
Gastronomic Tour in Austria
If desired, you can go on a gastronomicTour to Austria "Wine & Cuisine": During this tour you will see the main attractions of Vienna, visit wineries, taste the wines of the famous family Mervald, visit the lessons of culinary excellence at the restaurant of the Austrian chef Toni Mervalda, under whose guidance you will be able to prepare their own three original dishes. Also, for you to organize a tour of the bakery Haubenbergerov family (here you will be treated to delicious scones naisvezhayshaya). And visiting the winery RABL, you will visit the wine cellars of the tour, as well, will taste seven kinds of wine and a light snack.
Find out about the traditional food and drink you can, embark on a gastronomic tour to Austria.
Photo Austria national dishes