Children's camps in Austria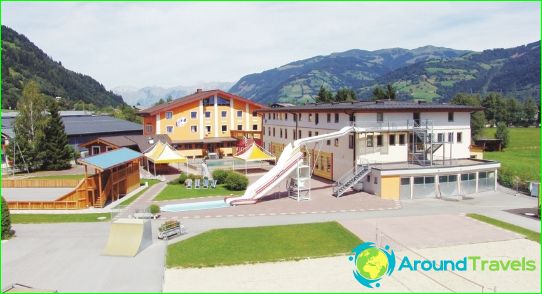 One of the most welcoming countries in Europe is Austria. It offers travelers the highest level of relaxation. The country is famous for its fascinating sightseeing tours and ski resorts.
Vacationing in Austria at anyseason. Many tourists prefer to buy tours in winter and summer. The most beautiful Austrian city in December, on Christmas Eve. Travelers go to Vienna, Tyrol, Salzburg and other famous cities. Younger tourists, too, have something to do in Austria. First of all, we are talking about skiing.
Children's ski camp
Austria ski resorts developed excellently. Besides skiing they enjoy snowboarding and ice skating. The most prestigious Austrian resorts -. Innsbruck Ischgl Seefeld, Leh etc. The country has a mild climate, which leads to good snow. At ski resorts have excellent slopes with different levels of complexity.
Each resort has a ski school forchildren. For the youngest skiers are all conditions for skiing. In total there are over 800 quality resorts. In general, they have 22 thousand kilometers of piste. Every year in the Austrian ski schools enrolled more than 1.5 million. Holidaymakers.
Children's camps in Austria have plenty ofservice. Camps for children and youth offer programs that provide not only skiing, skating and snowboarding, but also a host of other winter fun. For example, hiking, surfing and golf on ice, tobogganing, curling and others.
How to choose a camp
The best camps in Austria are concentrated inStyria. It is predominantly youth camps designed for teenagers and young adults up to 21 years. These centers are becoming increasingly popular among Russian youth.
Camps for children offer a wide range ofentertainment. Active sessions alternate with informative. Children attend various attractions and destinations:. Zoo, caves, terrariums, doll museum, safari parks, rides, etc. Austria - a country where there may be a very exciting excursions. In addition, some camps provide for the study of foreign languages. These children's centers open in the summer season.
The camps are located in Austria, not only in largecities and near the ski resorts, but also surrounded by beautiful nature. For example, the popular camp «Villiage Camps», which is a mini-city with its hotel, sports complex and training body. One of the best camps in Austria is considered as «Jugendclub Kitzsteinhorn». It has been operating for over 30 years. Russians this camp known as the "Alpine hut." The advantage of this center is that it occupies a favorable position. The camp is located in Zell am See - Kaprun. This place is characterized by beautiful scenery and excellent opportunities for recreation. Near the camp there is a glacier, where children are training course winter sports.
Photos of children's camps in Austria