Nassfeld - in the top 10 resorts in Austria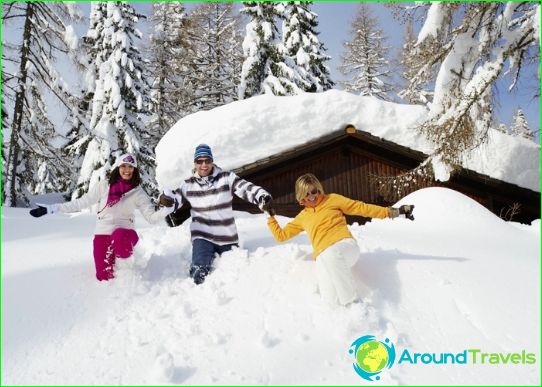 The largest ski resorts, BadKleinkirchheim and Nassfeld occupy in the Austrian winter tourism place of honor on par with the popular resorts Zaltsburgerlanda and Tyrol. Get very simple to the most important ski centers in Carinthia: the road to Nassfeld on the Tauern motorway A10 from Salzburg Airport takes no more than 2 hours - literally on the doorstep.
Unlike Bad Kleinkirchheim, skiNassfeld resort is not a settlement - it is just a dot on the mountain pass height of 1552 m (Nassfeldpass) surrounded by peaks Gartnerkofel (2195 m), Rosskofel (2239 m) and Trogkofel (2280 m). Although not too high altitude, snow is on the border of Austria and Italy, falls very much in the last couple of years. Thus, for example from 31 January to 2 February 2014 Nassfeld slopes piled 155 cm of snow, and the total snow depth was more than 2 meters.
Nassfeld ski area has a totalof 110 km of trails, and several slopes for freeride, located on an area of ​​113 hectares. Most of the trails of medium difficulty - they are 63% of the total number of runs. For beginners slopes a little - 27% and 10% - difficult. The longest trail has a length of 8 km.
In addition to the prepared slopes and Freeride areasArea, to the services of freeskiing fans in Nassfeld equipped for skiing and trail 2 snowpark cross-country fan. You can also hire a snow-tubing, bike-bob, snow-skate, snow scooter, sled, snow trikk, ski fox, bike, board, and other projectiles for fun on the snow at the lower station of the Millennium Express cable car slopes.
Not so long ago the region Nassfeld-Hermagor was inGuinness Book of Records, arranging at amateur ski competitions in the very length of the route length of 25.6 km. Competitions are called Schlag das Ass (inger) and were originally organized by Armin Assingerom, a former skier National Austrian team, 4-time winner of the World Cup competition, and now - well-known TV presenter of the Austrian version of the TV show "Who Wants to Be a Millionaire?".
The number of participants who took part in thesethe race is on average about 800 people. The point of the race - beat Assingera result, the main prize - a car BMW X1. The prize, of course, wonderful, although the usual amateur is unlikely to improve the professional time, even if the former.
race "Beat Assingera" This winter will be held on 6thtimes and held 17 January 2015. If you suddenly find yourself at this time in Nassfeld - do not miss this curious spectacle, or themselves take part in it. Complete the competition exciting air show the world champion Red Bull Flight Show Hannes Archa (Hannes Arch).
And spend in this wonderful placeposlenovogodnie vacation tour operator can help you TezTur. Yes, and with a direct flight from Moscow to Salzburg, where the resorts doorstep. Dates of departure - 03.01.2015 and 10.01.2015. More ...
Photo
The route of the race

Freeride in Nassfeld

Evening pokatushki sledging

Start of the race in 2014