The population of Austria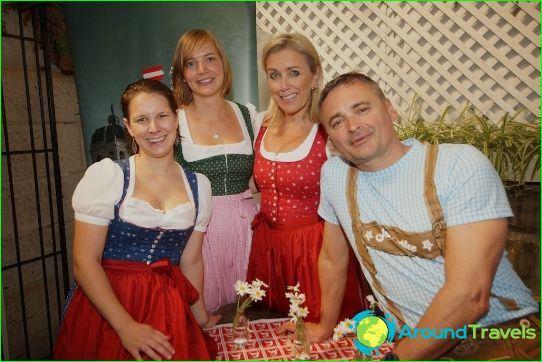 The population of Austria is more than 8 million people.
National composition:
Austrians (99%);
other nations (Slovenes, Croats, Hungarians, Czechs, Roma, Turks).
A significant Slovenian minority in Austria population inhabits the federal state of Styria and Carinthia, and the Hungarians and Croatians settled in the eastern regions of the country, mainly in the Burgenland.
In the 1st quarter.km is home to 90 people, but the most densely populated areas are the east, which are adjacent to Vienna (where 1 sq km is home to 150-200 people) and less populated Alps (population density - 15-20 people per 1 square kilometer). In the very same vein for 1 sq km 4,000 inhabitants.
The official language is German, but in Austria are widespread Croatian, Slovenian and Turkish.
Big cities: Vienna, Salzburg, Graz, Linz, Innsbruck.
Most people in Austria (85%) profess Catholicism, others - Protestantism, Islam, Orthodoxy, Judaism.
life expectancy
On average, Austrian inhabitants live up to 80 years (womenlive to 84 and men - up to 78 years). This is largely due to the fact that the state allocates for health care more than $ 4,500 per year for 1 person. Healthcare in Austria is at a high level - here, any hospital is able to provide high-quality medical care.
The country has virtually eradicated severeinfectious diseases, even HIV infection has a slight spread (of HIV-infected in Austria - 0.18% of the total population, while in Russia the figure is 0.7%). Despite the high rates of life expectancy, many Austrians smoke (the number of smokers is 23% in the country). But obese in the country is not so much - 12% (this is lower than the average in Europe - 17%).
Traditions and customs of the inhabitants of Austria
In Austria accepted to greet each other hands, and friends - kisses on both cheeks.
Austrians revered religious holidays. The principal are Easter and Christmas. For example, at Easter made to gather at the festive table, and on Good Friday before Easter service in the church light bread, salt, smoked meat, cakes, eggs.
Of great importance in Austria have coffee habits- Austrians love to visit the coffee house (they are for locals are a kind of cultural clubs), which often gather writers and musicians.
The Austrians - welcoming and hospitable people with a great sense of humor. If Austrian invite you to visit for lunch or dinner, taking with him to the hostess flowers or a bottle of wine to the table.
Important: at the table to talk about family and personal life, business, politics and religion.
As a general rule, at the entrance to the house, you need to take off your shoes - to replace the hostess will offer you a rag slippers.
Photo