Resorts of Austria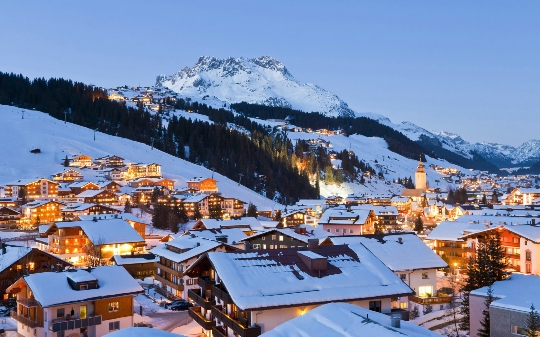 In Austria there is no access to the sea, but it does not prevent itbe one of the top tourist states of the Old World. The number of travelers from Russia, to explore the natural beauty and architectural and cultural sights of Mozart's homeland and Viennese coffee, tens of thousands each year. The main resorts in Austria can be divided into two groups - ski and beach on the lakes. But in the two categories are not all unique. Skiing here is successfully combined with ekskursionka and sunbathing diving and other active water sports.
Lake District, where summer paradise
To all, without exception, can be lakes of Austriaapply the definition of "clean." The water in each local "Zee" is so transparent that even stones can be seen on the multimeter depth. Hotel services and facilities to the lake resorts in Austria - diving and familiarity with the rich world of underwater fauna; skating on ships in the style of old; fishing and bird watching, nesting on the waterfront; hiking and cycling along the picturesque coast.
Special love the Austrian Lake District have won the fans quiet family holiday, but also romantically minded youth, leading a healthy lifestyle, to local beaches - it is not uncommon.
Always in the TOP
Ski resorts in Austria - this is a list of morefifty names, each of which are perfectly groomed trails of varying degrees of complexity, efficient infrastructure, technologically advanced lifts, excellent, comfortable hotels and a whole system of training programs and high-quality ski schools:
Mayrhofen is diverse and attractive for thedifferent categories of tourists. There are trails for the guru and the "penguins", on the slopes opened training school for the first descent on skis and kindergartens even work for kids. Entertainment off-piste in the resort of Austria envy any world capital.
St. Anton - the place for the real pros. On its slopes there are trails, marked with black, and excellent opportunities for freeriding. By the way, the Austrian resort of respect and snowboarders, with a modern, highly technical snowpark.
Tyrol resorts are famous not only famoustunes and excellent opportunities for skiing, but also a popular hiking and climbing trails. All year round the local hotels are ready to receive travelers, for whom the best of the mountains can really be only mountains!
Photo