Rivers of Austria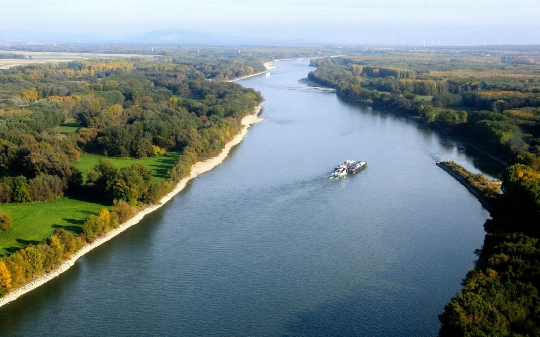 The main river in Austria - this is the Danube and the Rhine and its tributaries. In addition to the rivers in the country has a great many lakes.
River Vienna
A small river, which runs along the trackthe country's capital. Vienna's length - only 34 kilometers. At the same time through the streets of Vienna runs 15 kilometers. The source of the river - Vienna Woods (its western part). The confluence of the - one of the arms of the Danube, Donaukanal.
The bed of the river, located within the city,lined with stone. In these river shores locked in 1895. And the purpose of this transformation - the protection of city streets from the severe floods. In the area of ​​Auhof to the Kennedy bridge along the river paved promenade along which you can walk and walk and a bike ride in the daytime.
River Gail
Gail - one of the rivers, which channel passesexclusively on the lands of Austria. Gail is a right tributary of the Drava and has a total length of 122 kilometers. The source of the river is located in East Tyrol (town Obertilliach). The flow direction - from west to east.
River Gurk
The bed of the river passes through the Gurk Carinthia (Austria); it is the second longest river - 120 kilometers - in the region. Gurk inferior only Drava.
The river originates from two small lakes -Gurkzee and Torerzee. It then flows through the Valley. It flows into the river Drava in the water between the cities of Klagenfurt and Völkermarkt. Major tributaries Gёrtshits; Metnitz; Glan.
River Inn
The source of the river is in Switzerland(Lake Lunguni, pass small). After this Inn "looks" into the territory of Austria and Germany. Inn joins the Danube River in the city of Passau (Germany), together with the river Ilz.
River Leitha
The riverbed is on the territory of Austria andHungary. It is a right tributary of the Danube. Light's throughout the non-navigational channel. The total length of the river flow - 180 kilometers. On the banks of the river there are two cities - Wiener Neustadt and Bruck an der Leitha, as well as small towns.
The source of the river is located on the slopes of the Fischbach Alps(Near Wiener Neustadt). The river has several branch ducts, which run from hydroelectric power. At the same time they take most of the water Light.
River Ledava
Ledava - river, during which passes through the territory of several countries - Austria, Slovenia, Hungary and Croatia. The total length of the course - 76 kilometers.
The source of the river - Austria (town Lendva Bach). Then she goes to the territory of Slovenia. Ledava takes water of several rivers. Basically, the left tributaries of the river; the largest - Great Krk and the longest - Kobil. Completes its way the river, falling into the water Mura.
Photo