Tours in Mayrhofen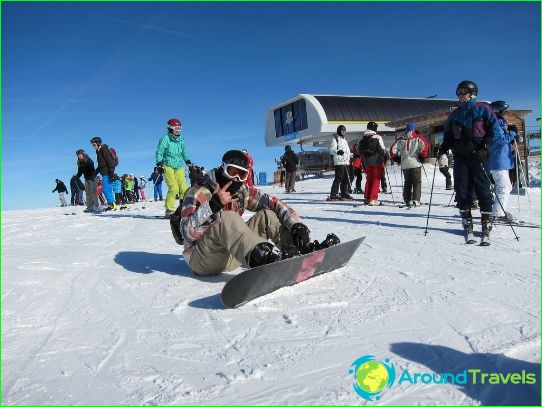 This ski resort tops the listthe oldest and best in the Austrian list, and because tours in Mayrhofen is always popular with fans of active pastime during the winter holidays.
History and geography
Alpine Village, which appeared on the siteMayrhofen ski resort, once cozily nestled between the slopes of the Ahorn and Penken. Here guests can enjoy the fascinating beauty of its mountain scenery and slopes covered with pine trees, which is so pleasant to shoot the breeze or take a walking path in search of the lost in the busy city of harmony with oneself.
Major skiing areas for the participants in the toursMayrhofen, there are three: the Hintertux Glacier - the most experienced and advanced, Ahorn - for "green" penguins and Penken - for those who see no skiing for the first time and quite confident on them rests on a hillside. By the way, the eternal ice Hintertux you can practice downhill skiing and in the middle of July, and it was here that the first year in the Tyrol ski resort was opened in 1968.
Technical perfection
For participants tours in Mayrhofen are open almost unlimited opportunities to practice their favorite sport:
Length of trails at the resort is different, but the winds of the longest glacier in the valley for 12 kilometers.
Total for the needs of the athletes are 42 liftsdifferent design that allows, despite the influx of visitors to avoid queues and traffic jams, rising every hour to more than 60 thousand people start sites.
All tracks of land controlled by special equipment and provides an ideal artificial snow in any weather.
On the slopes opened nearly three dozen cafes and restaurants where you can dine and fully, and a light snack in between skating.
For those who can not live withoutsnowboard tours in Mayrhofen - the perfect opportunity to try out in one of the best snow parks in the Alps. Hone skills to help some half-pipe, rails, snow figures and other pleasures boarders.
Buy ski passes much more profitable to stay in the round in Mayrhofen. Daily ticket purchase is more expensive about twenty per cent.
To get to the resort can be from several airports. The closest - in Innsbruck in 65 km from the mountains. A little farther to Munich and Vienna.
Photo