Trains Austria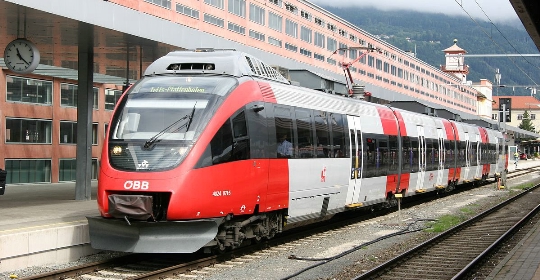 Austrian railways are very convenient forTravel. On them you can reach anywhere in the country, as well as to get to Germany, Hungary, Italy, Switzerland and other countries. Austrian trains are expensive, which slightly spoils the mood of foreign tourists. The dense railway network completely covers the Austrian territory. The most lively movement of trains takes place on the main lines that connect the big cities of the country. The length of the Austrian railways is 5800 km. They communicated with the European railway system.
trains of different types are used in Austria: regional, high-speed, commuter. F / A country transport operated by OBB, which paved routes through all the important towns. The official website of the organization: oebb.at.
tickets
railway transport Travel costsquite expensive. For example, a ticket on the route Vienna - Salzburg costs about 36 euros and the trip takes three hours. Getting from Vienna to the airport by train can be, having spent 15 euros for 15 minutes on the way. For more information on the cost of tickets is on oebb.at (website of the Austrian railways). There's also presented the schedule of trains in Austria.
The costs of rail transport can be greatlyreduced if you use special rates. This takes into account parameters such as distance, number of travelers, age, travel one-way or round-trip, the train speed, route. Group rates allow a discount to pay for travel groups of several passengers (up to 5 people). To save on the road, a group of passengers could use the ticket Einfach-Raus-Ticket, designed to travel on regional trains. There is a 50% discount for children from 6 to 15 years. Kids under 6 years of age can travel for free. More expensive travel - trains EuroCity. However, families with children may be eligible for discounts.
Tickets for the train in Austria can be purchased online. E-ticket should be printed on the printer yourself. In the future, it can not be corrected, or pass back. Tickets with discounts often have vending machines.
Conditions for passengers
Comfort during the journey defined by the classtrains. First and second class are sometimes combined in one car. The first class involves coupe with a table. In all Austrian coaches have comfortable seats and toilets.
Timetables and routes change throughout the year. Therefore, the information should be specified before the trip.
Photo