Trip to Austria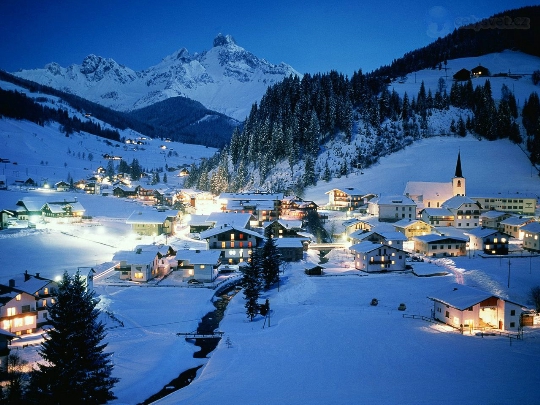 Imagine a place where the water meadowspasture-fed cows and in roadside taverns you served a dense fragrant herbs rustic soup, where the winter - it's downhill and vibrant Christmas markets. Want to? Then a trip to Austria - exactly what you need.
Public transport
The main means of transportation in the Austrian city - buses, trams, trolley buses are very rare.
Urban transport Vienna - a bus, tram,subway and commuter trains. The most convenient way to travel, of course, underground. Almost all the stops are oriented so that the tourists could get to their interesting attractions.
Trams on the second place in terms of convenience of movement. Here the route leaves and modern models, and old, are very similar to our Russian trams. Tickets can be purchased at automated ticket office or from the driver. Do not forget to validate the ticket when boarding.
intercity
In Austria there is a long distance flights. The country has practiced exclusively commuter. The main purpose of buses - delivery of passengers to the train station. The average price of the trip - a few euros.
It must be remembered that after the 6 pm bus services can not be.
Taxi
Taxis in the country can be ordered by phone or take on specialized parking. Catch a taxi on the street is simply not realistic to stop near the "voting" is not accepted.
The fare is paid by the meter. For a separate fee paid landing, about 2,5 EUR. You can give the driver a tip, but not necessarily, if desired. If you are planning a long trip, you need to agree in advance on the final cost.
airlift
The main task of internal flights - Deliveryof airport passengers in larger complexes, where they already make international flights. Overall, domestic transport is very small. International flights take: Vienna; Innsbruck; Salzburg; Linz; Klagenfurt; Graz.
Domestic flights are carried out by planes Tyrolean Airways, which is a subsidiary of Austrian Airlines the country's national carrier.
Railway transport
Railway - the main way to travelcountry. The total length of more than 6000 km of tracks. Timetable observed with extreme thoroughness. The main carrier of the country - national company OBB.
In a way you can go to one of three types of trains:
long investigation;
regional train;
commuter train.
The ticket price will depend on the distance of the end point of the path, the number of people traveling. It plays a role, and then you have a ticket only at one end, or at once and there, back and forth.
Cheaper to just go on a journey group(Not more than 5 persons). In this case, you can take advantage of a special rate 1PLUS Freizeit ticket, when every next ticket is half the previous one. The discount is given automatically.
Photo