Where to rest in Austria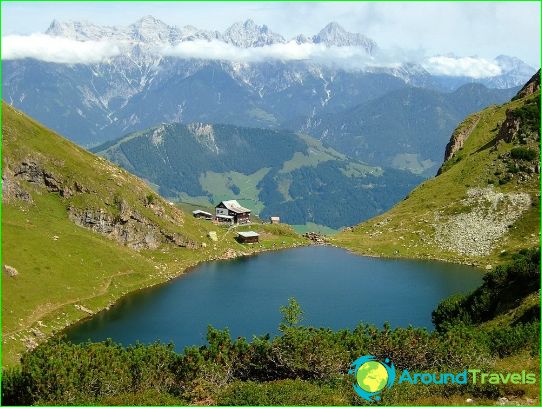 Austria is located in the heart of Europe,It is a very attractive country for travel. Here you can relax both on the ski and spa resorts, as well as make excursions to the sights. There is also the opportunity to enjoy the beauty of the picturesque lakes. But where to go for a vacation in Austria?
Mesmerizing look is not only the city,but very tiny hamlet, is located at the slopes of the magnificent mountains. Many corners of Austria has kept the spirit of bygone eras and their greatness. No less attractive and alpine meadows, over which, like a carpet, scattered orchids, poppies and edelweiss. And the Austrian forest with its centuries-old beeches and oaks and inviting stroll along its glades.
Sightseeing holidays
Vienna - the capital of Austria, where the luxuriouslyeverything from different sweets and pumping architecture. Vienna - dazzling, glittering lights of illumination, as if designed for romance. Each year there are 300 balls. The most famous conducts the Vienna Opera, which is called the Opera Ball.
For lovers of frills and wanting to get to theMusic Festival should visit the city of Salzburg, which is located in the northern Alps. This city is always beautiful. It is here preserved magnificent monuments that were built back in the Baroque era. In December, the streets of this city played a variety of theatrical action.
Bad Gastein - a wonderful place where to rest in Austria, if you plan to combine rest and treatment. In addition, you can go skiing.
Youth holidays
Beauty Austrian resorts suchawesome that many famous people and even the royal family has always chosen for their holidays these places. Here you can perfectly combine leisure with treatment with a host of mountain-sport centers and excellent balneological resorts.
Many resorts are very attractive to young people, especially Solden. It is equipped with a high-class resort destination trails and excellent sports facilities.
The ski resorts of Mayrhofen like howprofessional athletes and beginners. It is fully equipped with the track, there are opportunities for climbing and just for lovers to take a walk and enjoy the local beauty.
Holidays in Austria is very diverse and beautiful. Its beauty captivated the country and will continue to conquer the hearts of many writers, musicians and artists.
Photo holiday in Austria