Wines of Austria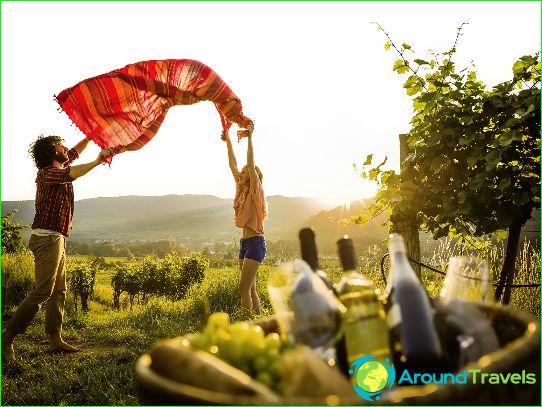 Even the Celts in the VII century BC engaged in what is now Austria's wine growing and winemaking. With the arrival of the Romans the area reserved for vineyards, increased significantly. Emperor Charlemagne made an invaluable contribution to the development of the Austrian winemaking, viticulture entering inventory, and has received the first classification since Austrian wines.
History and geography
Documentary mention of the wines of Austriacontained in the documents of the XVI century. Since then, the wine industry of the country was going through a lot of ups and downs associated with wars and with the adoption of new laws, and with economic growth, and epidemics of pests.
Industrial-level Austrian wine output reached in the mid-twentieth century, when winemakers, new agricultural machinery, fertilizers and other technological innovations.
The majority of vineyards in AustriaIt is located in the south-eastern region. The ratio of white and red wines of Austria is dominated by light. Four main areas of the country where established wine production - is Styria, Vienna, Lower Austria and Burgenland.
Varieties and Wine
Leading Austrian grape variety isGruner, from which produce a light and lively white wine, different fruit-spicy aroma and aftertaste. Of the varieties Italian Riesling wine produced with a pleasant acidity, fresh and sonorous. Soft and rich nutty flavor distinguished white wines from varieties Neuburger.
Red grape varieties of the Austrian - itZweigelt and Blaufränkisch. The first gives gourmets dense wine with the aroma of cherries, which can be drunk young. From Blaufränkisch varieties of berries cooked wine with hints of blackberry and blackcurrant aroma.
Classification and sugar
The main criterion for the classification of a complex wineAustria - sugar in the wort from which the blended beverage. Classification table is one of the most difficult in the world and contains a dozen subclasses. Typical representatives of Austrian wines are as follows:
Table wines TAFELWEIN - the most numerous category. Made from a blend of grapes that can be assembled within the EU countries.
Local wine LANDWEIN made from the fruit of a certain region. They contain more alcohol and sugar than the previous ones.
QUALITATSWEIN - branded product, the production area which is indicated on the label. They have a special code that is assigned to special tastings.
Armchair wine KABINETTWEIN Austria or bottled only in the territory of the country.
Photo