Airports in Azerbaijan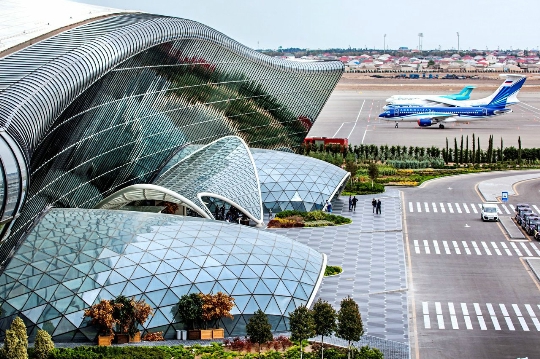 Small Transcaucasian republic has at itsavailable six airports with international status, is very popular among the tourists arriving in the country. Azerbaijan's largest international airport is located in the capital, which is related to air traffic with other cities. Total in the country there are more than 30 airports, most of which serves local routes.
metropolitan realities
The main airport in Azerbaijan is Heydar nameAliyev and is located 25 km east of Baku in Bina settlement. With the city its terminals connected modern highway on which to Baku center can be reached by shuttle bus or taxi in less than an hour.
It offers passengers convenient system storesDuty Free, located in the departure and arrival halls, and various infrastructure facilities - restaurants, cafes, room mother and child and the expectations of the VIP rooms.
At the airport it. Heydar Aliyev based "Azerbaijan Airlines". In addition, he receives direct flights from Russian airline "Aeroflot" and the S7, most of the European carriers, including Lufthansa, Air France, Austrian Airlines and Czech Airlines. Baku fly Turkish, Chinese, Qatari, Uzbek and Tajik Airlines - only about thirty airlines.
Details are always available on the site - www.airport.az.
Spare airports
Less popular with tourists, but which play an important role in the life of the country and having the status of international air gateway are available in other regions:
Gabala airport is located a fewkilometers from the city, an annual music festival which is a center under the auspices of UNESCO. From a single terminal easiest way to get into town by public transport or taxi.
7 km from Ganja - the second largest citycountry - Azerbaijan is the airport, received in 2007 the international status. Transfer to Ganja arriving passengers carried buses and taxis.
Zagatala Airport is 7 km south of the city and receives flights from Baku, Nakhchivan and Ganja.
Only through the air
The only way to get to the cityNakhichevan - the capital of the Nakhchivan Autonomous Republic within Azerbaijan - Airport. The reason for that - the status of the enclave and the country's uneasy relationship with Armenia, whose territory surrounds autonomy over half of its borders.
International Airport of Azerbaijan in Nakhchivanreceives flights from Baku and other cities of the country, as well as Istanbul and Kiev. From Moscow here directly flying from Vnukovo UTair. Five kilometers separating the passenger terminal to the city center the easiest way to overcome a taxi or bus.
Photo