Baku - the capital of Azerbaijan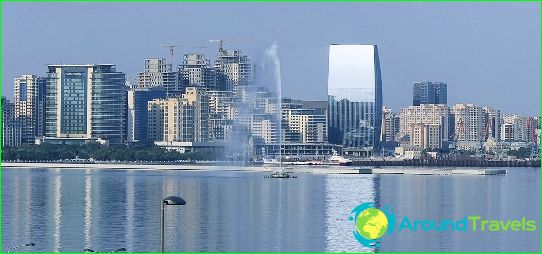 The capital of Azerbaijan Baku, once a traditionaleastern city, at the beginning of the XX century became known as the "Paris of the East". This capital of the country did not bazaars and caravanserais, and the "black gold" of oil. Of course, your oriental flavor Baku preserved and offers many interesting places.
Shirvanshahs Palace
The palace complex is located in the Old Town inthe highest point. The unique construction in addition to the 52 rooms, located in the main building include a bath, a mosque, the tomb, the tomb and its own water reservoir.
The construction of the main part of the palace was completed in the XV century. From the former luxury and grandeur interior virtually nothing left. The building is of interest only in their appearance.
Maiden's Tower
It is a symbol not only of the Old Town, but also the capital. The construction of the Maiden Tower was completed before the XII century, and it was part of the fortress, surrounded Baku in the Middle Ages. Later, she took on the duties of the lighthouse (This mission came in the era of the Russian Empire), but almost before the revolution has lost that status.
The observation deck is located on the top of it, you can admire the panorama of Baku. Near the tower is one of the entrances to the territory of the Old Town.
Flame Towers
They can be seen almost everywhere. But the most beautiful tower in the dark, when it is not simply highlighted and glittering with all the colors of the Azerbaijani flag. Erection construction was begun in 2007 and completion scheduled for 2012. But work continues to this day.
Winter Boulevard
Boulevard is a continuation of the city park named after Heydar Aliyev. Extend out the authorities decided in 1980, but funds for the project were received in 2009 alone.
Boulevard - a great place for walking. There are roller tracks running fountains. Houses along the street, lined with light beige stone. In general, the boulevard is almost no different from the Baku promenade. The only "no" - there is no restaurant and coffee shop.
Icherisheher
Old Town, it sounds like that translating word for word,perfectly lived up to the present day, preserved in its original form. This is the only place of the capital, where you will be able to admire the classic architecture of the Middle East.
Local gems - the Maiden Tower and Shirvanshahs palace complex. In addition to the Old Town, you can admire the 15 mosques, and then go for a walk through the narrow streets.
Photo