Entertainment Baku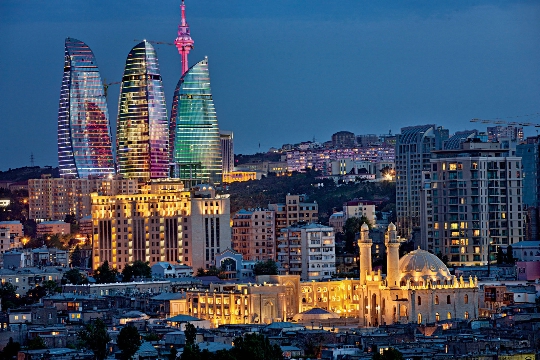 Entertainment Baku focused on children and their parents, lovers of outdoor recreation, shopping adherents (the city has shops and colorful markets).
Amusement parks in Baku
"Studio 2 Bavarius": here you can swim in different pools, spend time on exciting rides, children's playgrounds, in the cozy cafes and terraces for relaxing.
"AF Hotel - Aqua Park": This family entertainment center, you can spend time in the gym, on the ice rink, tennis court, billiard room, hall with slot machines, on the playground, in the swimming pools with water slides.
Luna Park: Guests here are such attractions as the "Stuker", "Viking", "Castello The", "Rollercoaster", "Sun".
What fun to Baku?
If you are interested in nightclubs, payattention to the "Sound Factory" and "N-Brothers" - these places delight their guests theme parties, interesting presentations and musical performances.
Love active pastime? Visit "Metkarting" sports and entertainment center: here you will be able to enjoy a game of bowling and a ride on the maps.
If you like unusual entertainment, lethimself to go to the area of ​​Yanar Dag - then offers to walk on the edge of the quarry (the land is burning because of gas reserves under it) and listen to the legend of this place (you will be accompanied by an experienced guide).
If you want to enjoy the panoramic views of the central area of ​​the capital of Azerbaijan, you should climb to the observation deck Baku-360.
Be sure to visit Baku to VenicePromenade - then you will be able to take a boat ride along the canals, admire the bridges, to spend time in restaurants. In addition, while in Seaside Park, you can ride on the various attractions, including the swimming pool on the inflatable balls.
for children in Baku Entertainment
Delphinarium "Marlin": little guests, for sure, will be happy to swim with the dolphins in the pool, take pictures and play with a ball and enjoy the dolphin show.
Koala Park: here the children can have a snack in the café, which has a children's menu, have fun at the numerous attractions ( "Flight of the Bumblebee", "train", "Peace", "Family slides") and in a variety of Toy Library.
Aqua Park Kempinski Hotel Badambar: small and adult visitors will be happy to indoor and outdoor pools with water slides located here. In addition, there is a kids area, sauna and baths, massage parlor, room for bowling.
In Azerbaijan's capital, you can visit the cultural monuments, theaters and museums, go fishing, ride on the maritime transport modes.
Photo