Prices in Baku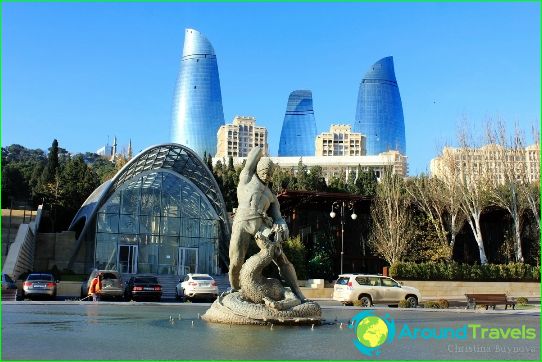 Baku - the city attractive for tourists. It is the capital of Azerbaijan, where you can see many attractions. Monetary unit - manat. Tell us what prices in Baku on products, trips and accommodation.
Financial subtlety
After arriving in Baku, try to immediatelyexchange money for AZN. Some large stores and upmarket restaurants accept euros and dollars. But to pay in shops, taxis and cafes should be local money. Small coins come in handy for a visit to the markets. Exchange in Baku can rubles, dollars and euros. It is not necessary to apply for it to private individuals. Exchange rates produce better in the bank or exchange office. Many supermarkets and banks have ATMs where you can withdraw money. Do not remove too large sum at once. In itself it is recommended to have only the means that will be needed for the running costs. Making purchases, have to bargain to lower the price several times. This can be done in the souvenir shops and the grocery market. To pay in restaurants and shopping centers better manat.
Prices in Baku on products
In many food products prices are very low. However, dairy products have the same value as in Russia. The bread in Baku costs about 50 cents. Cheese - about $ 7, apples - $ 1.5 per 1 kg, potatoes - 1.3 $ per 1 kg.
What to buy the tourists in Baku
Vacationers are imported from Azerbaijan differentsouvenirs. To purchase magnets with the image of Baku, you will need AZN 3-4. Postcard with beautiful views of the city are at AZN 2. Paintings, hand-embroidered, cost 25 manats, and silk scarves - 10 manat.
Cost of services on the beaches of Baku:
Boat trip on the boat, about 1.5 hours - AZN 2;
entry fee on the beach Shikhovo - 1 manat;
rent sunbeds - per person 4 manat.
In Shikhovo can find cheap beaches, where an entrance fee, sun loungers and umbrellas are asked to 3 manat.
Excursions
You can order a sightseeing tour online. In Baku and offer a variety of low-cost program. Excursions are also offering all tour operators and tour guides in the city hotels. Sightseeing tours are of different duration. They may be one day, two days or a few hours. Tour in Baku holiday costs about 30 thousand rubles. This price includes accommodation, food and sightseeing tour.
Sightseeing usually occurson buses, although it is possible to find and walking tours. The best hike is considered an overview, in which tourists can explore the most famous places of Baku. Considered interesting tour of the old city and medieval fortresses inspection program. Travelers can meet with mosques, churches, monasteries, castles and nature reserves.
Photo