The bazaars and shopping centers Baku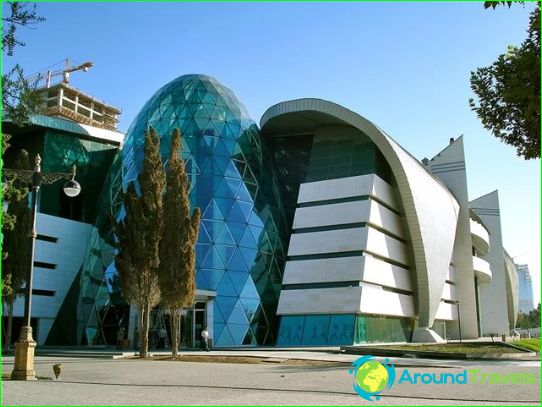 Baku - the ancient eastern city. From the first days of its inception it has developed hand in hand with trade. As in any eastern city, the main shopping facility here - it's noisy bazaars with their flavor and aroma of spices. Bargaining is necessary to them, otherwise you will lose all respect for himself in the eyes of the vendors within the visual and audible accessibility. During bargaining the seller will tell you it takes away from the latter, connect gestures and facial expressions. The price may fall twice, but do not worry, he will not remain in the loser.
Sharg Bazar - Orient Bazaar. This is a good place to buy souvenirs, silk, ceramics, copper utensils and other articles of the Azerbaijani craftsmen. On Commerce Street - a pedestrian street of the Nizami in Ancient Baku - sell the same, but the prices are much higher than in the Sharg Bazar.
Taza Bazar - here the main task of a tourist: not to lose self-control and to remember how much is a kilogram of excess baggage when you return home by plane. Persimmon and figs, spices, baklava, walnuts, pomegranates and other delicious foods and millet in the bag.
You can find clothes at fairs Syaderek and Bean,cosmetics, household appliances, textiles and so on. at low prices. On Bina things more expensive and quality. Both markets are located outside the city, convenient to reach by public transport.
Shop "Carpets" on the street.Gala - one of the best places where you can choose a colorful work of art of the weavers. Shop owner over a cup of tea learns about your preferences and select the desired size, material and ornamentation masterpiece of the East, will speak about the benefits of a carpet. But remember that the quality of the road carpet.
Prices in Baku on European clothing brand bite. Many residents of the city prefer to update the wardrobe with the help of online stores. Luxury brands are renting premises for the boutiques in the city center on Commerce Street. For the mass buyer calculated malls Park Bulvar, 28 Mall, Metro Park, Galleria Nargiz.
In 28 Mall under one roof brands Zara,Bershka, Massimo Dutti, Swarovski, Next, Aldo, New Yorker, Pandora, Mango, Stradivarius, Pull & Bear, Gap, Charles & Keith, PrimaDonna, My Sports, LC Waikiki, Next, La Senza, Aldo Accessorize. On the last two floors of the settled point of catering and cinema. Particularly praised the coffee, which brew coffee shop Second Sup.
Photos Baku shops