The streets of Baku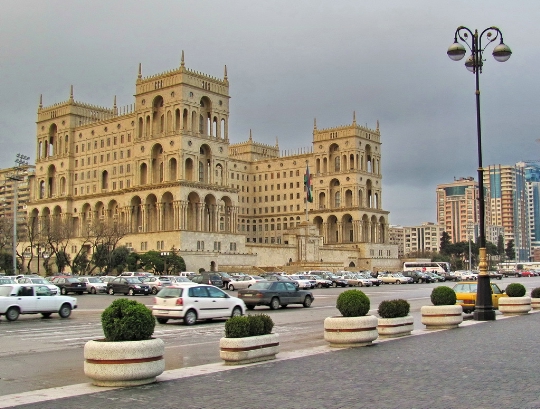 Baku streets are ancient history. They are characterized by eclectic architectural styles. On the streets there are both ancient, and modern facilities. Skyscrapers are standing next to the ancient houses and palaces.
The boulevards and main streets
A popular place of recreation for residents and visitors alikeThey are boulevards. One of the best is considered to Primorsky Boulevard, which appeared more than 100 years ago. City authorities conduct its reconstruction, thanks to which it will be longer than 4 times. Another famous Boulevard - Baku, which extends from the Crystal Hall to Government House. Nearby is the sea, so the boulevard at the same time considered the waterfront.
The main route of the city - Nizami street. Buildings of this site was carried out in the late 19th century. Therefore, buildings are built in different styles: Neo-Renaissance, Baroque, Neo-Gothic, Neo-Classical, Moorish. In recent years architects are trying to create projects in the spirit of the country's national culture. Earlier Nizami street was called Commerce, Fizuli, Provincial and Krasnopresnenskaya. It stretches almost 4 km, crossing the center of Baku from east to west. Nizami Street starts near Abdullah Shaig street and extends to the streets Sabit Orujov. The name "Marketplace" will retain a part of the pedestrian street.
Many of the streets of Baku - this in itselfAttraction. In Soviet times, they were the names of the party leaders. After 1991, when Azerbaijan gained its independence, the streets were given names in honor of the national figures.
Where to walk in Baku
The city has several interesting areas. These include Area 26 Baku Commissars, which is an important historical landmark. Amazing is considered to Fountain Square. On it are sculptures, fountains and cafes. It is organized by the original laser show with fountains, which attracts thousands of spectators.
The architectural reserve of the city isancient quarter Icheri Sheher. In this area there are famous attractions: Maiden Tower, Shamakhy gate complex Shirvanshahs Palace, Mausoleum of Seyid Yahya Bakuvi, caravanserais and ancient mosques.
The most memorable streets carry Rashid Behbudov Street and Istiglaliyyat. They are known for their pre-revolutionary buildings, universities and museums.
In Baku, a lot of lush gardens. The most popular of the Heydar Aliyev park, hitting an abundance of green spaces and flower beds.
Photos Baku streets