Baku suburbs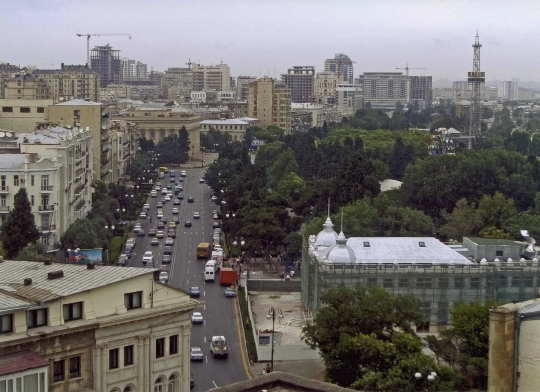 The capital of Azerbaijan - the city is very ancient. The first written mention of it appears in the early Middle Ages, although found in the suburbs of Baku rock carvings say that the first people were here in prehistoric times. The population of the city with suburbs is more than two million people.
On the shores of the Caspian Sea hoary
concentrated in the suburbs of Baku largethe number of bathing areas where prefer to spend the weekend the locals. Some beaches are equipped with good and worthy of attention and visitors to the capital of Azerbaijan:
Novkhani - a beach road on the outskirts of Baku,which are located along the furnished seating areas. Entrance to the beach is usually free, but for the car park will have to pay local entrepreneurs. Sami beaches are equipped with toilets and showers, and wishing to have dinner with sea views can take advantage of the many cafes. Near the hotel "Aqua Park" is waiting for the guests paid beach with sun loungers, parasols and facilities for tennis and volleyball.
Water Park Golden Beach - a favorite place for a family holiday. Slides and water attractions here are designed to suit all tastes and age of visitors.
Beaches near the village Zagulba sand, but the entrance to the seacan have jagged rocks at the bottom, and therefore should be very careful when bathing. Infrastructure is a gazebo for relaxing, both collective and individual, fresh shower, locker and storage.
On the beach Mirvani can not only sunbathe andswim, but also to play football or volleyball, take a ride on a "banana" or a jet ski and celebrate the happy event in the banquet hall overlooking the sea.
Cultural and entertainment center of Bilgah settlementlittle inferior to the seaside resorts abroad. The outdoor pools of different depths, water attractions, summer cafes and the possibility of water sports make it a popular recreation area on the outskirts of Baku.
Past and Present
In the north of the Absheron Peninsula is locatedvintage Mardakan settlement, where a high concentration of historical and architectural attractions. Guests of this suburb of Baku enjoy walks in the botanical garden, get acquainted with the exposition Sergey Yesenin House Museum and photographed for memory fortress with a round tower, erected in the XII century. Another unique structure of this suburb of Baku - the fortress of the XI century, square tower which is decorated with memorabilia collectible stamps issued in Azerbaijan.
Photo