What to do in Baku?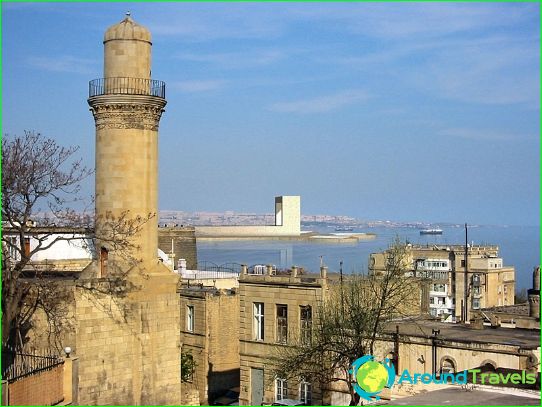 very welcoming and hospitable people live in Baku,so do not be surprised, and even more so, to refuse an invitation to go on a visit to a cup of tea. And lodged them in Baku you can and trade shops. Taking a treat, to thank the owner and buy him a souvenir.
What to do in Baku?
A stroll through the Old Town;
See the symbol of Baku - Maiden Tower;
Take a tour to the Palace of the Shirvanshahs (XV century);
Walk at night Baku, to see buildings that are highlighted in almost all the splendid illuminations.
Things to do in Baku?
Taking a walk through the old part of the city (Icheri Sheher), you can walk through the streets, buy souvenirs, as well as to find a place where they filmed the comedy "The Diamond Arm".
Then you can go down to the promenade: on the sea berth ships are pleasure (they hit the road every 30 minutes), by purchasing a ticket for that, you can go on a boat trip and see the Maiden Tower by the sea.
Baku is famous for the villages, many of whichlocated on the coast of the Caspian Sea: because they are composed of boarding houses, spas, resorts, access to the private equipped beach, you should come here for treatment, rehabilitation and beach holidays.
Active and beach holidays
Beach lovers will like to bask on the beaches in Novhanah (Barbados Beach, Palma Beach, Sahil Beach) and Mardyakyan (Jazzi Beach, Dalqa).
While vacationing with his family, is to go into a majorwaterpark Azerbaijani AF Hotel-Aqua Park (in the village Novkhani). At your service - cafes, slides, kids club with animators who spend fun competitions.
You can go to Mardyakyan village to spend time in the water park Studio 2 Bavarius - here you can not only have fun on the rides, but also see the performances of stars of show business.
And you can go to an amusement park, for example, in the Koala Park and Luna Park.
Active travelers will enjoy the entertainmentMetkarting center - here you can go bowling and go-karting. For those who like to stay awake at night, you should pay attention to the night clubs and discos (Rich Club & Lounge, Capones).
Those who prefer to go on eco tours, will be able to spend time outdoors in parks, gardens and squares of Baku, for example, in the Upland Park, in the Governor's garden and Sabir.
Baku can come within a shopping tour tobuy beautiful carpets and high-quality local production of silk, bronze, brass and pottery, as well as edible souvenirs (wine, baklava, cognac, caviar).
Baku - this is not the only ancient city in the Caucasus, but also a modern metropolis, which is developed infrastructure: it will be interesting to fans of rest and sightseeing, and the supporters of active recreation.
Photos you can go to Baku