Traditional cuisine of Azerbaijan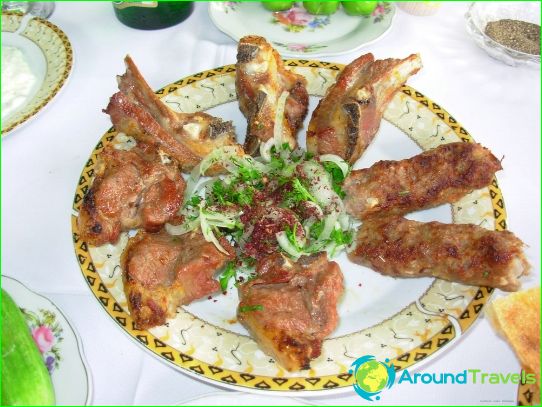 Power in Azerbaijan is characterized by the fact that the national dishes of delicious, original, diverse and hearty.
Food in Azerbaijan
The diet consists of Azerbaijanis food soups,meat (beef, lamb, poultry), vegetables (eggplant, tomatoes, spinach, cabbage, onions), fish, dairy products. Azeris like to spice their food with spices such as anise, cumin, coriander, fennel, celery, basil, dill, parsley.
Many meat dishes Azerbaijanis eat with cottage cheese, feta cheese and fermented milk drinks. And absolutely any dishes here have made with various kinds of lavash.
The most popular in the country enjoys the risotto (there are more than 40 recipes for cooking this dish): it is cooked with chicken or mutton, as well, here you can taste the sweet fruit pilaf.
Azerbaijan should try pilaf, shish kebabs,kebab, mutton and beef Donar, kyufta, dolmasy (dish like stuffed cabbage, grape leaves, peppers, sorrel with meat, fruit and other toppings), roast fowl, a variety of soups (hot or cold meat with yogurt).
A sweet tooth will be delighted with halva, baklava, Turkish delight, Kozinaki, watermelon, jams young walnuts, dogwood and paradise apples.
Where to eat in Azerbaijan? At your service:
cafes and restaurants, offering their visitors enjoy national dishes and other cuisines;
tea house and fast food restaurants.
Drinks in Azerbaijan
Azerbaijanis are popular drinks tea(Black, green, herbal), gatyh (milk product), ayran, sherbet (infusion on berries, citrus and other fruits with sugar and ice), black coffee, mineral water ( "Sirab", "Daridagh", "Badamli" "Isti-Su", "Turshu-su"), beer, wine, cognac, brandy.
Tea in Azerbaijan drink anytime, anywhere, and often it adds cardamom, cinnamon, ginger, rose water, thyme and other spices.
Gastronomic tour in Azerbaijan
Embark on a gastronomic tour of theAzerbaijan, you will visit on a tour of the city of Baku and taste national dishes in the best restaurants (a traditional tea party will act as a finishing touch of any meal).
As part of the gastronomic tour you will be taken toLahij mountain village - here you will be treated to barbecue lamb or chicken, submitting to it fresh tomatoes, cucumbers, sweet peppers and herbs, as well as kebab wrapped in pita bread and decorated with onion and herbs.
And in the city of Sheki, you can try PITI - souplamb, vegetables, peas, plum and spices, as well as dumplings in Azerbaijani (byushbara). And these dishes you will definitely be served dry red wine "caravanserai".
From a trip to Azerbaijan in a special delight gourmets will come - then they will be able to taste the delicate fish and meat dishes, sorbets and sweets from fruit juice and cane sugar.
Photos national Azerbaijani dishes