Areas of Azerbaijan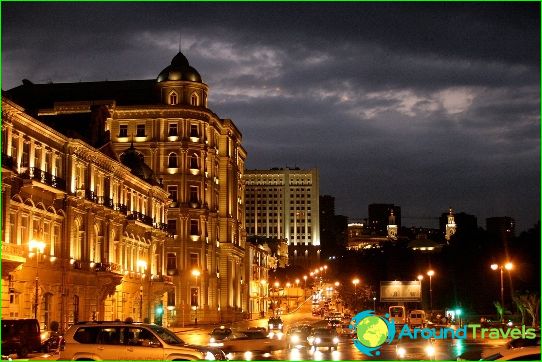 Political divisionAzerbaijan preserved from the time when he entered as a union republic of the USSR. In total the country has 66 regions called districts, 12 cities of republican subordination and one Nakhichevan Autonomous Republic. With neighboring Armenia in its relations complicated, because it and the unrecognized Nagorno-Karabakh republic controlled some areas of Azerbaijan. However, the Armenians are counter-claims to Baku, so peaceful and pleasant modern neighborhood of the two countries it is difficult to call.
repeat the alphabet
Each of the 66 districts of Azerbaijan is the administrative center, the name of which does not always coincide with the name of the territorial district education.
Alphabetical list of head and AbsheronAgdam and Shusha short and Yardimli regions. The biggest areas include Sheki and Guba region, and the least visible in the map area of ​​Ganja.
The climate phenomenon
Azerbaijan is only 112th place onoccupied territory among world powers, but it does not prevent him to offer the guest nine out of eleven existing climate zones of the planet on its small area. This diversity of nature and the weather can not be found in many countries of the first world scores! Subtropics and mixed forests, steppes and semi-deserts - journey through the regions of Azerbaijan will be exciting and varied adventure for everyone who prefers outdoor activities.
The center of the ancient Shiva
On the territory of the Azerbaijani region locatedjust east of the central part of the country, once housed the ancient state of Shirvanshahs. Today Shamakhi region of the country - one of the most popular holiday destinations, and local and foreign tourists. The main attractions of the region - mosques and mausoleums VIII-XVI centuries, the healing cave near the village of Melhem and Forty springs village Girkh.
This area is very popular in Azerbaijanand fans of eco-tourism. "Pirgulu" Preserve offers familiarity with rare plant species listed in the Book of endangered species, and in the forest can be enjoyed Dzhalangin wild juicy pears and swim in the sulfur springs.
Sorcerer lake
On the territory of Gёygelskogo region of Azerbaijancreated the eponymous nature reserve, which is considered the main pearl of Blue Lake. An extraordinary turquoise color of the water - is not the only feature of the reservoir. According to local belief, the air around the Blue Lake extraordinarily healing and even cures diseases of the respiratory organs and the nervous system. Scientists explain this fact high ionization of the air, and local residents - special magical properties of an evaporating lake water.
Photo