Resorts of Azerbaijan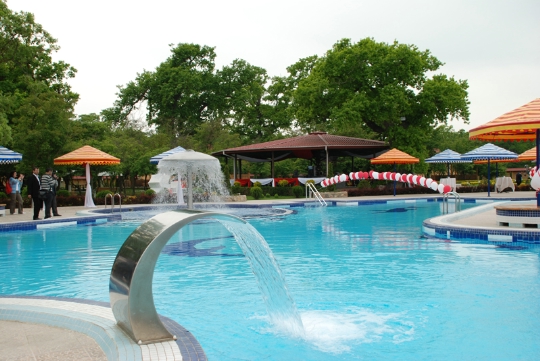 Tourism in Azerbaijan is gaining momentum and iswell, since ancient state has to offer its guests plenty of historic sites, architectural masterpieces and modern achievements. Connoisseurs prefer to delve into the study of the national cuisine of Azerbaijan and will be a thousand times right. It is so diverse that on the menu find dishes like even the pickiest visitor. No less interesting are the resorts and Azerbaijan, because the local unique treatment programs can not be found in any other world health resort.
Black gold guard health
Azerbaijan has long been known as an oil power. Annually it produces a huge amount of "black gold", but not all of it is used only for technical and industrial purposes. There is a particularly valuable natural substance that allows you to treat dozens of different diseases in the depths of the ancient country.
Naftalan - a mineral oildark brown color, extracted in Azerbaijan. On the basis of Naftalan in the country has developed a wellness program, which has already benefited tens of thousands of people. The chemicals contained in Naphthalan oil, have anti-allergic and anti-inflammatory effects, it dilates blood vessels and have analgesic effect.
Always in the TOP
The main resort of Azerbaijan, which tendget everyone to undergo treatment naftalan, bears the same name as a panacea for many ills. At the end of the XIX century these parts oil attracted to the city of suffering, and today on the basis of a medical product, donated by the Azerbaijani bowels, opened several sanatoriums and boarding houses in the resort Naftalan.
Arthritis, rheumatic pain, low back pain,dermatological diseases, including psoriasis - a list of reasons for treatment in the local health center is very broad and all these illnesses are successfully treated in Naftalan. Bath and smearing, massages and baths - it is only a small part of the list of all doctors in the resort secrets of Azerbaijan, where guests often leave canes and crutches, and the staff is in no hurry to send forgotten the addresses.
On the shores of the Caspian Sea hoary
The sandy beaches of the resort Nabran known for a longlong. There is no perfect infrastructure, but pensions and resorts are open in considerable quantity. Relict beech forests surround the beaches Nabran, and its inhabitants did not afraid of human presence here and see deer, owl or a rabbit can be right at the porch of the tourist lodge.
Azerbaijan - promo video
Photo