Azerbaijani rivers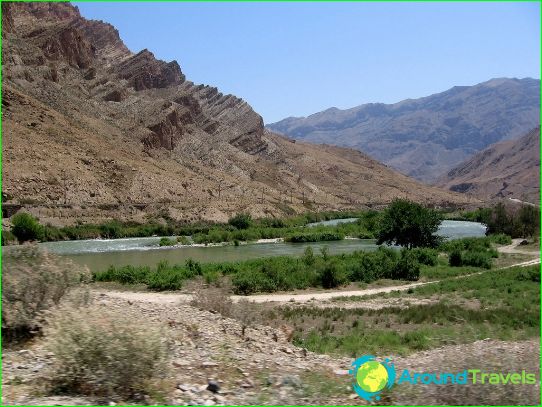 Throughout the country there are 8,400 rivers of various length. And while all the Azerbaijani rivers flow into the waters of the Araks and Kura.
Alazan River (Alazan)
The channel runs along the Alazan eastern lands of Georgiaand the western part of Azerbaijan. Part of the river bed plays the role of a natural border between the two states. The total length of the channel - 351 km. This river is the largest tributary of the Kura.
Source Alazan is on the slopes of the GreaterCaucasus (its southern part). The main tributary Alazani - Katehchay river. In its upper reaches is a classic mountain river with rapid current. After its waters out to a spacious Kakheti valley, it becomes more relaxed.
The waters of the river are widely used for irrigation. Alazani Valley is the main area where the grapes are grown for wine making.
Turianchay River (Tyuryaev)
Turianchay - river, from its source up to the confluence, is located entirely on the territory of the country. The channel passes through four districts of Azerbaijan: Gabala; Ujar; Agdash; Zardab.
The source of the river is located on the slopes of the Greater Caucasus(South part). And it is the confluence of two rivers - Karachay and Agrichay. It falls Turianchay in Kourou at an artificially created channel. The total length of the river - 180 km. Upstream rapid. Basically, the river water is used for irrigation.
Agstafa River
The bed of the river passes through the lands of Armenia and Azerbaijan, as a right tributary of the Kura. The total length of the course - 133 kilometers.
The source of the river geographically located in Armenia (the western slope of Mount Tezhler, Pambak Ridge). Upper Agstafa pass through a narrow gorge. The middle and bottom part of the channel pass through the broad valley.
Water Akstafa widely used for irrigationvineyards located along its banks. Major tributaries include: Bldan; Sarnadzhur; Voskepar; Agdal; Getik. On the banks of the river there are three cities - Dilijan; Ijevan; Kazakh. River Valley had once served as a trade route. And today you can see fountains decorated old masters masons.
Aker River
Acker - a left tributary of the Aras. Start river originates in the territory of Karabakh highlands where the two rivers formed by the merger - Gochazsu and Shalva. The upper course of the river paves the way among the volcanic rocks, flowing through a deep and narrow gorge. Only the average for the channel expands.
The river is caused by snowmelt, updating also occurs due to the rains. The main use of the river water - irrigation. Flood at Aker observed in May and June.
Photo