Skiing in Azerbaijan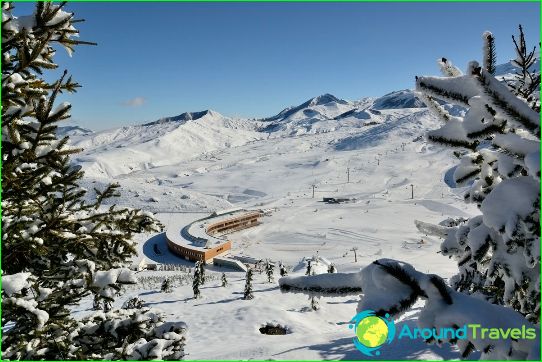 Nature of Azerbaijan is extraordinarybeauty, and its inhabitants - a surprising warmth and hospitality. For these two reasons are enough to buy a tour to Azerbaijan, but there is a third reason to visit the Caucasian republic - its ski resort. Go skiing and snowboarding you can now, without flying to Europe or North America.
The equipment and lines
Ski Azerbaijan still quiteyoung, but its popularity has stepped far beyond the Caucasus republic. Located 25 kilometers from Kusar village, the resort is situated on the territory of the Shahdag National Park, whose ecological system is under state protection.
Trails Shakhdag laid at a height of 2500 metersabove sea level and its area is more than 2 thousand hectares. In total, the ski resort is equipped with 19 tracks of Azerbaijan, which guests of the resort delivered four cableways. Already open in Shahdag skiing ski school where you can learn to stand on the side not only skiing, but also snowboarding. equipment rental item allows you to select any equipment to practice your favorite sports.
Ski Azerbaijan is still quiteyoung, and so many plans to equip its only being implemented. Over time, the Shahdag open cottages and camping, will be built the gondola lift and launched artificial osnezhneniya system. The project - construction of swimming pools and tennis courts, basketball and volleyball courts. But today, guests Shahdag happy doing snow tubing and horseback riding are sent to participate in hiking snowshoeing and skating on the snowmobile. Children like to play in the children's complex under the supervision of experienced teachers, while their parents learn the wisdom of skiing.
Activities and excursions
Family Resort Shahdag growing fastpace, and soon it will be the guests something to do not only on the track but also in their free time, active sports. But now the ski resort offers a variety of recreation program, which includes a spa relaxation, rest in complexes bath, excellent massage and, of course, familiar with the famous Caucasian cuisine. The skill of the local chefs makes guests regret the fact that a return ticket already in his pocket, and vacation - a concept limited timeframe.
Photos of the ski resorts in Azerbaijan