Taxis in Azerbaijan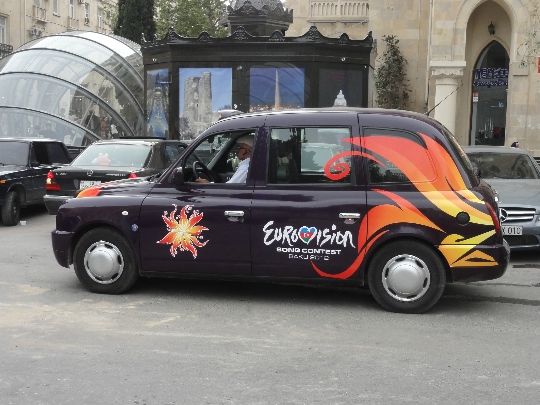 Taxis in Azerbaijan has severalfeatures which need to be sure to mention. Going into this country on holiday or on business matters, you need to pre-acquainted with the approximate prices and "surprises" Azeri taxi.
Let's start with the fact that most of the carsTaxi - this is not new and used vehicles, which arrived in Azerbaijan from London. All cars - purple, so the local people call a taxi unusually - "aubergines". In developed European countries have long established uniform rates for travel in a taxi. In Azerbaijan, it is not. Arriving at the airport, you will see how you rush taxi drivers and will offer their services for 30-35 manats. However, if you can not get to your destination by bus or taxi, then start trading. Your trip can cost much less than if it worry yourself. Sitting in a taxi and pay 20 manats, know that you can plant companion.
Features a taxi in Azerbaijan.
Azerbaijan - a country of bright and emotional. Local taxi drivers - people are quick-tempered but good-natured. Therefore, with taxi drivers is better not to engage in useless disputes. Every year, the number of taxi drivers, private traders reduced. Expensive licenses for this kind of activity does not make it impossible to continue working. Official companies offering taxi services, may increase prices, depending on their workers' interests.
In Azerbaijan, there is a single tariff, the majority of taxis are not equipped with meters. Therefore, the approximate prices start from these marks:
Base rate - the price of land in a taxi - $ 1.29;
Standard fare - a trip in a taxi 1 hour - $ 0.89;
Standard tariff - passenger waiting 1 hour - 7.44 dollars.
The Azerbaijani authorities are making maximum effort,to "civilize" taxi service, making it more advanced and reliable. For better or worse, decide to tourists themselves, taking advantage of this mode of transport.
To call a taxi by phone: (+99412) 437-88-98; (+99412) 565-31-89; (+99450) 240-41-45.
Before you take advantage of the official services of the company, remember that a taxi just caught on the street, will cost much cheaper!
Photos Taxi in Azerbaijan