Azerbaijan Traditions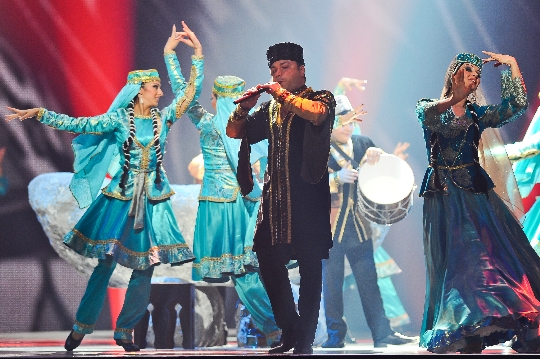 Azerbaijani culture and its customsWe began to take shape in the fifteenth century, when the local ethnicity began to be allocated to separate from the centralized Ottoman. In the tradition of Azerbaijan is largely influenced by the customs of Iranians, Arabs and, of course, the Turks, which the local population has religious, and linguistic community.
Guests are on the doorstep ...
... Is holy for Azerbaijanis. Rejection of the invitation to visit someone's home may be regarded by its owner as a personal insult, because in, agreeing on the time of the visit, he will have to apply. Going to visit, it is necessary to stock up on a few nice souvenirs, because the host will present guests sure their gifts.
Shoes at the entrance to the house take off, and by tea,badged as a greeting, do not give up. By the way, the tea party - it is an important tradition in Azerbaijan and it is accompanied by any conversation. In the country there are hundreds of teahouses, where you can discuss business or just chat with friends. As a rule, Azerbaijani women do not go there, but the European women are allowed to drink a cup of tea in a nearly men's club.
Patriarchate gladly
The family relations of Azerbaijan culture - isunquestioning obedience to the woman to her husband, father or brother. That husband sovereignly disposes of the property decides to financial issues, determines the fate of children. Modern society is, of course, moving away from this patriarchal tradition, women in Azerbaijan are increasingly taking responsible positions on an equal basis with men, and decide for themselves where they study or work. But respect for the stronger sex is, but because an Azerbaijani admit that they like to feel in a marriage, like a stone wall.
Useful things
As in any Muslim country, inAzerbaijan should observe special dress code. Should not appear in public in clothes too open, and when visiting mosques or national cultural heritage is important to have a decent look.
Alcoholic beverages should not be consumed on the streets. It is punishable by a fine. Before you smoke, it is necessary to make sure that there is no prohibition tablets.
Buying Azerbaijani carpet, it is important to get inSeller certificate that allows unhindered export of works of local masters outside the state. Carpet weaving - one of the ancient traditions of Azerbaijan and export of high-value instances is prohibited by law.
Photo