Visit to Azerbaijan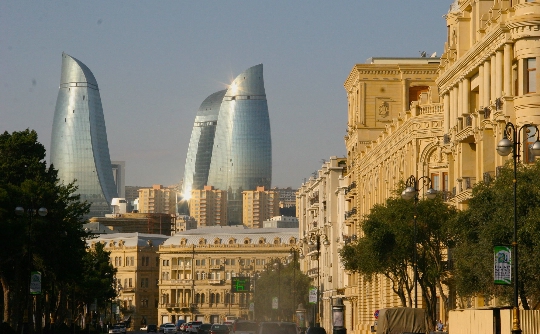 Trip to Azerbaijan may become a real magical journey, unless, of course, to know where and how to get there.
Public transport
In cities of the country you can travel on buses, shuttles and taxis. Metro is only in the capital.
Long-distance travel is by bus. This is much more convenient than the train. Especially if you are interested in a place not too remote.
Metro in the capital was opened in 1967. The total length of lines (of only two) - 33, 1 kilometer. A total of 22 Baku metro stations. Trains run late into the night: the subway closes at 1:00.
Taxi
Machines with checkered ready to offer their servicesany time of the day. But we must remember that there is a fixed cost of the trip, so you must negotiate a price in advance. The average cost of a trip around the city ranges from $ 3-8.
airlift
The largest in the country, while the airport complexIt located in the capital. It is from here and committed numerous international flights. Total in Azerbaijan 5 international airports located in major cities: Baku Airport. Heydar Aliyev; in Parzivane; Ganja; Lankaran; in Nakhichevan.
Domestic flights connect the major cities of the country with the capital. The main airline - the company "Azerbaijan Airlines» (AZAL).
Railway transport
That the share of railway traffic has to ¼ of the total passenger traffic of the country. The total length of lines - 2195 kilometers.
Car rental
The total length of the roadway in the country a little more than 59 000 kilometers. It asphalt almost 30 000 kilometers. Highways in the country are located parallel to the main railway lines.
If you decide to travel around the country by car, do not forget to bring your driver's license.
Remember that it is best to use the serviceslarge companies with a good reputation. Local newspapers can find a lot of proposals to lease the car. Typically, such a proposal comes from the individual and the necessary papers in this case is not made out. In this case a deposit for the car can be a very high sums. And almost always plenty of reasons to not return the pledge left.
Also it has to be framed insurance. Apart from this, get advice on how to behave and what actions to take if an accident or the car broke down. Also remember that you will be required to pay for insurance and value added tax in addition to the rental cost.
Azerbaijan - promo video
Photo