Airports in Bahrain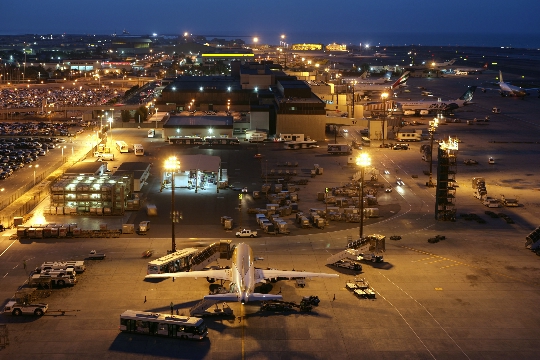 Kingdom of Bahrain - a small islandgocudarstvo in the Gulf, where they were going in search of entertainment features. Bahrain Airport receives daily wishing to participate in falconry, fans of the game of golf and horse riding fans. Flights from Moscow with possible layovers in Cairo, Dubai, Istanbul and Doha. Russian passengers have to spend in flight about 7-8 hours considering transplantation.
Bahrain International Airport
The only international airport BahrainLocated on the small island of Muharraq 7 km north-east of the capital - the city of Manama. Local airlines based in the air harbor, operate regular flights to Athens and Baghdad, Bangkok and Cairo, Chennai and Doha, Kuwait and Larnaca, Paris and Peshawar. They are called Bahrain Air and Gulf Air. In addition to them at the airfield are planes of different airlines in the world:
Air Arabia, Etihad Airways, Flydubai, Jazeera Airways, Oman Air and Sirya Air fly to neighboring countries and cities - Sharjah, Abu Dhabi, Dubai, Kuwait, Muscat and Damascus.
At Lufthansa planes can get to Frankfurt and then - in all European capitals.
Pakistani and Indian Airlines carry passengers in Karachi, Delhi, Lahore and Mumbai.
Turkish Airlines connects Bahrain to Istanbul airport.
At United Airlines boards can go across the Atlantic to Washington.
Infrastructure and transfers
In 2010, the air gate of Bahrain wereawarded the title of "Best Airport in the Middle East." Prior to that, for several years in its territory were large-scale works on construction and reconstruction.
Today, three terminals operate here, where there isall modern facilities for passengers - from restaurants and shopping malls to hotels and even a swimming pool. In anticipation of the departure can pass the time in a hairdressing salon or spa, buy nice souvenirs in the duty free shops and currency exchange. The passenger terminals running speed wireless internet.
Transfer from Bahrain International Airportcarried out by buses, plying between the island-city where the airport is located, and the bus station in the capital. The stop is located at the roundabout on the highway at the exit of the arrival hall. Taxis cost more than an order of magnitude, but the prices for its services in the kingdom are not too high. It is better to choose a car equipped with a taximeter, to the price of the trip does not exceed the real (about $ 10 at September 2015).
Tourists who want to rent a car, can benefit from the services of offices based right in the passenger terminals in the arrivals area.
All details about the flight schedule are on site Airport - www.bahrainairport.com.
Photo