Manama - Bahrain's capital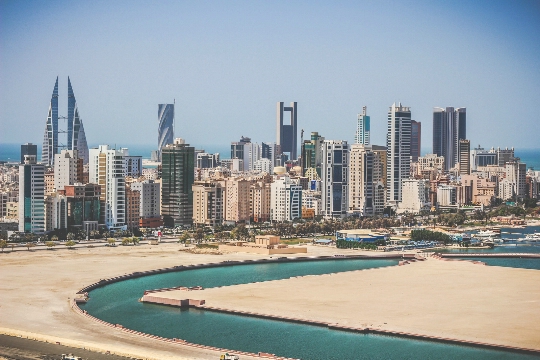 The remarkable name, soft, tender - Manama- Is the capital of Bahrain. Tourists arriving here from different countries, note the difference between this city and the neighboring Arab capitals. Firstly, one can see very strong British influence, even reminiscent of famous London taxis and cabs have the same numbering. And secondly, there is a more loyal attitude to alcohol, unlike other countries in the Arab world, where drinks with degrees banned. In Manama, the tourists can buy them in specialized departments or to order in a restaurant.
Famous bazaars
They are easy to find on the map of the capital, such as the Golden Souk, whose name translates as "Gold Souk", is a kind of landmark.
Tourists prefer to buy things, food and souvenirs here, where you can feel the full force of flavor of local life. Most often in Manama tourists acquire:
articles of precious metals in Europe and India;
uniquely beautiful pearls and jewelry from him;
fragrant spices and seasonings;
beautiful fabrics with traditional patterns and colors.
It is clear that in the capital of Bahrain, there are shopping malls, but this kind of atmosphere there, of course, is not found.
Sightseeing and museum collections
Qalat al-Bahrain - it is one of the most famousforts, pride of the residents not only capital but also the whole country. Dates back to XVI century, the erection of his hands put the Portuguese. Tourists arrive on the coast, not only because of this grand building. In an area where the fort is located, preserved artifacts related to the ancient civilization of Dilmun, so the territory is under the close attention of UNESCO.
Manama - the capital of the Arab state,majority of the population - the Muslims. Not surprisingly, the city's many mosques, for the local population - a place of prayer for tourists - interesting architectural objects, masterpieces of Arab art of building. The biggest mosque in the capital open to tourist visits. Of particular note is its huge dome, which weight more than 60 tons, and it is made of a new generation of material - fiberglass.
Surprising artifacts collected in the NationalMuseum of Bahrain, he is considered among the richest museums in the Persian Gulf. His exposure - a detailed story about the ancient country and its inhabitants, crafts, traditions and rituals. Tourists can visit some exhibitions devoted to, for example, the Koran, Arabic calligraphy and traditional crafts.
Photo