Flag of Bahrain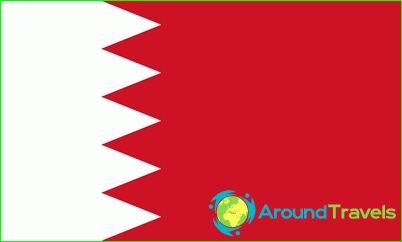 Officially, the state symbol of the Kingdom of Bahrain - his flag - was adopted in 2002.
Description and proportions of the flag of Bahrain
The flag of Bahrain flag has a traditionalrectangular, and its sides are each other in a ratio of 5: 3. Field Bahrain flag two-color, free edge of it - red, and the portion located near the staff - white. Red and white part of the flag of Bahrain are not equivalent to each other by the width of the red edge twice as wide as the white. The boundary between flag fields is a zigzag line, consisting of five full white triangles and four full and two partial - red.
Bahrain flag on the country's laws canused as both public and civil. He is the official symbol and land forces, navy and marine Bahrain. Bahrain Royal Standard is used as the official flag of the royal family. He has a white background, much of which is in the center of the State of Bahrain takes the flag. In the white box at the top of the flagpole at the royal standard applied golden royal crown.
The colors and pattern of the flag of Bahrain, and is repeated onthe emblem of the country, which also serves as an integral part of the state. It was created in 1930 by a British adviser to the Emir. The coat of arms has the shape of a shield of red color, which is located on top of a horizontal white stripe. The boundary between them is a zigzag line with five white teeth, as well as the flag State. The background for the shield is red and silver gallop, imitating the leaves and flames.
The history of the flag of Bahrain
Until 1820 Bahrain was a flagentirely red flag that symbolized the traditional colors of the Kharijites. This sect in the VII century, stood apart from the rest of the Muslim community. Having signed an agreement with Britain, Bahrain added to cloth narrow white strip, placing it along the shaft of the flag. After 13 years of a clear boundary between the white stripe and red flag of the body has been replaced by a zigzag, to distinguish between the national flag and similar symbols received in the regions.
The current number of white teeth in the flagBahrain symbolizes the five main pillars that form the essence of Islam and required to perform every devout Muslim, and the cloth itself is for the inhabitants of the country the object of special veneration.
Photo Bahrain flag